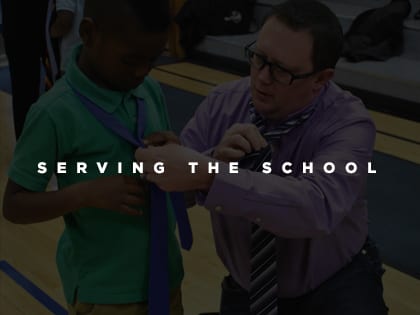 Members at Oakdale Baptist Church ask school officials about the needs they have and find ways to meet them.
The Church: Oakdale Baptist Church in Edmond, Oklahoma
The Challenge: Help a local school in a low-income area.
One Big Idea: Ask school officials about the needs and find ways to meet them.
Students and teachers at Crutcho Elementary School in Oklahoma City, Oklahoma, have it rough. In a district made up of primarily Section 8 housing and with every student eligible for free or reduced-cost lunches, the area is known for poverty, gangs, violence and drugs. Eight years ago, an associate pastor at Oakdale Baptist Church in nearby Edmond asked school officials, "What can we do to help?"
"They were leery at first," says Justin Ford, Oakdale's senior pastor. "But once they realized we were serious, they gave us opportunities far beyond what we would have dreamed."
With seven miles between the church and the school—and the church located in an area of gated communities—it was an unlikely partnership. But over the years, church volunteers have held workdays at the school, prepared meals for PTA meetings and provided weekly tutors. They also have participated in "Tie Day," a mentoring event for school-aged boys.
The church also celebrates Crutcho students with birthday cakes. Once a year, Oakdale's youth prepare custom birthday cakes for each student. The cakes are frozen and given to the children on their respective birthdays. For some kids, it's the first birthday cake they have received in their lives.
Oakdale has made a point to serve the school's staff as well as its students. Each teacher is "adopted" by a family at the church and receives an annual personal postcard. And once a month, a prayer meeting is held to pray specifically for school personnel.
"It's not just about the kids," Ford says. And that mentality has led to important relationships. Six years ago, Ford prayed with Crutcho's principal to become a follower of Christ. After four years and a battle with cancer, the principal passed away, leaving a "huge impact [on] the school spiritually," says Ford.
"Really, the story isn't about what we have done for them. It's a story about a school that has opened itself up to the church," Ford says. "We asked how we can help, and they responded with great ideas."
Find more children's outreach ideas »
OAKDALE BAPTIST CHURCH
Edmond, Oklahoma
OakdaleBC.com