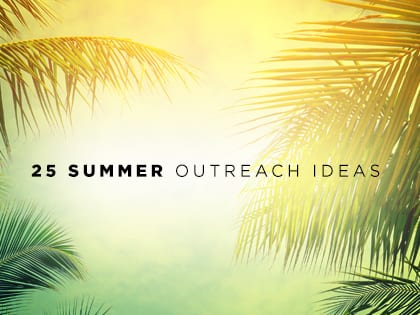 This summer, try these 25 idea starters to reach your community in creative ways.
From the pages of Outreach magazine and OutreachMagazine.com, and from churches around the country, here are 25 summer idea starters to help you reach your community in creative ways.
1. Take students to the beach, or invite them on a hike or bike ride.
Teens may have aged out of VBS, but providing a fun, outdoor activity will help them stay involved at church.
2. Hold an outdoor, dog-friendly service.
Designate a Saturday evening service where members can bring their dog to church with them.
3. Cool down commuters on hot days.
Set up shop on a busy street corner and hand out free, ice-cold soft drinks and bottled water to passers-by. Order personalized water bottle labels with your church's name and information.
4. Offer free car washes in the church parking lot.
Have a professionally made banner or sign that says, "Totally Free Car Wash!" or "Free—No Kidding—Car Wash!" Then, wash the cars just as effectively as a paid car wash would.
5. Hold an outdoor basketball tournament.
One church invites area youth every Friday night for "Midnight Basketball." They start each gathering with prayer and end the summer with a pizza party.
6. Hold outdoor concerts for the community.
Invite local musicians and bands, and mix up the genre each week. Provide complimentary refreshments for attendees.
7. Throw parking-lot parties.
One church organizes a parking-lot party once a week for five weeks during the summer—complete with food, petting zoos, moon bounces, games, crafts and more.
8. Reach out to the folks at the county fair.
Set up a booth at your county or state fair and get the word out about your church. Bring photos of service or missions work your church has done, as well as a list of ministries and service times.
9. Shuttle low-income children to the swimming pool.
One church uses their bus to bring children living in public or low-income housing to the nearby pool where church volunteers provide swimming lessons, game time and a quick Bible study.
10. Host a surf camp.
If you live near the beach, enlist some surfing aficionados from your congregation to teach children, teens and adults how to surf.
11. Teach people how to fish.
One church hosts a free fishing seminar for anglers of all ages. The Sunday event includes demonstrations by the state Department of Environmental Conservation: live fish, bait demonstrations, crafts and games, and a spooling station to reline fishing reels.
12. Turn your church into an air-conditioned escape facility.
Convert your church into an indoor lounge complete with Wi-Fi, a play area and an ice cooler stocked with bottled water. Open it up to the community and contact local mothers' play groups to let them know they're welcome.
13. Mow lawns for free throughout the summer.
Send teams of volunteers to mow lawns for their neighbors who have limited mobility, such as the elderly.