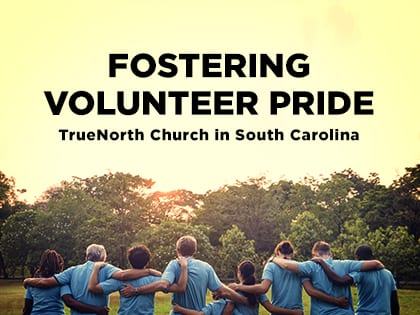 Pastors Gene Jennings and Shane Williams discuss tapping into the desire to be part of something bigger.
What's the context of your ministry in North Augusta?
Gene: We're right on the state line. It's the birthplace of the Southern Baptist Convention. So, there are lots of traditional Baptist churches around here, and I think people are just ripe and ready for something different and fresh.
We were a portable church, meeting in the local high school for 10½ years. A lot of people didn't consider us a "real" church until we built our new campus. But since moving into our building two years ago, our attendance has grown by 50 percent.
How has connecting at TrueNorth changed over the past 13 years?
Gene: We used to think that once you got involved in the church, the next logical step was to join a small group, and then you'd begin to serve after that. Over time, we've found that it's changed. It's the complete opposite. People are willing to serve before they're willing to step into a small group. So, we've had to grab hold of that reality. It wasn't by design.
How has that changed your job?
Shane: We're just trying to find multiple ways to get them connected. If you want to serve, it's not just fill out this form. It's not just go to the website. It's not just go talk to someone. There are a lot of avenues because we have a lot of different people with different backgrounds. We do something sporadically on Sundays called "Text to Serve." People can just simply text in to a number, and we're able to capture some information from them. Then they go into a pipeline, and we follow up with them, getting them plugged in to serving.
A lot of times people will check multiple places where they want to serve. Then when we have a conversation, they'll say, "I don't know where you need me." We always say, "Well, it's not as important where we need you as it is where do you need to be." We let people know, "Hey, if you serve in kids' ministry for three weeks and you realize you can't take the dirty diapers, it's not a problem. We just want to find where you can serve that works for you because we believe everyone has a role."
If someone visits TrueNorth, they'll surely notice some really bright, fun T-shirts.
Shane: We have kind of a unique T-shirt culture. We do at least one T-shirt a year for our volunteers. The only way to get one is to be a volunteer. It's a really positive thing; our people love to be identified with volunteering. They're proud—it's kind of a badge of honor. And they wear it beyond Sunday. It says "Volunteer Staff" on the back, and it starts up conversations around town. People will see the shirt and say, "Hey, TrueNorth … Volunteer Staff. What does that mean?" And then our people get to say, "I get to do this. I'm a part of this." That's been something that we can't measure on paper but we know it's had an impact.
So many of our volunteers … they've caught the vision. To be honest, I'm not sure all of them have bought in to Jesus. I'm not sure that all of them have taken that step to be a Christ-follower. But they love the community that we've built and they love being a part of something big. So they're fostering those relationships and people respond to that.
TRUENORTH CHURCH
North Augusta, South Carolina
Website: TrueNorthChurch.com
Launched: 2004
A 2016 OUTREACH 100 CHURCH
Attendance: 2,237
Growth in 2015: +458 (26%)
Fastest-Growing: 42