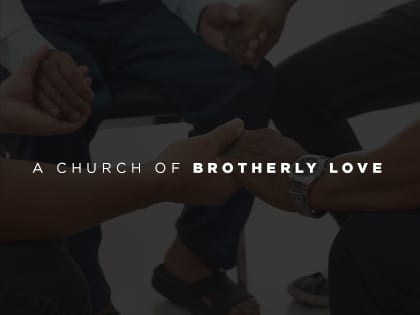 Cosmopolitan Mission Service Baptist Church seeks to build a church that lives and breathes sacrificial, Christlike love.
The Church: Cosmopolitan Mission Service Baptist Church in Philadelphia
The Challenge: Build a church that lives and breathes sacrificial, Christlike love for each other and its community.
One Big Idea: Love members like family and empower them to minister to others with the same familial love.
Christ is at the center of Philadelphia's Cosmopolitan Mission Service Baptist Church. But after Christ comes an emphasis on family—and on Christlike love. It's that family atmosphere that encourages members to treat each other and their neighbors with brotherly love, too.
"There's a lot of love among the members," says Senior Pastor Calvin Kelly. "We look out for one another, pray for each other, encourage one another."
Kelly, who has been the pastor of Cosmopolitan for 12 years, leads the church alongside his wife, Diane, who is the head of evangelism. His children lead different ministries, as well. And it's common to see multigenerational families among the membership. Everyone finds a place in the church.
Cosmopolitan has attracted a growing number of young people in recent years. In fact, Kelly says the majority of the church's 50 to 70 members are under age 35. At a recent men's breakfast, for example, most attendees were under the age of 23.
What the small church lacks in cutting-edge technology or other large-church resources that often attract young people, it makes up for in its genuine warmth and kindness—a key factor to people finding their way to Cosmopolitan, Kelly says.
"When young people have parents who are role modeling the Christian life, then that attracts them to come, too," he says. "And when you've got young people who are loving and warm, that attracts their friends."
Cosmopolitan's extension of brotherly love also reaches the broader community, including the homeless and marginalized. The church emphasizes two means of outreach: meeting practical needs like clothing and feeding people, and evangelizing often.
Kelly and many members regularly invite people to church, hand out tracts and build relationships with those they serve.
"The church to me has to be more than four-wall religion," he says. "When we look at the ministry of Jesus Christ, he spent more time outside the church than inside. So we definitely have to go out, meet needs and reach people."
Deaconess Charlotte Jefferson, who has been a member of the church for more than 30 years, runs the soup kitchen. Kelly says she is a great example of the way Cosmopolitan's members own the responsibility for evangelizing and serving the community.
"She shares the gospel with those who are lost," he says. "When we're done serving food at our soup kitchen, she'll even go to a park not far from us and give food to the homeless and other people walking around in the neighborhood. She has that kind of vision."
Jefferson is just one of many members who loves the church's neighbors well. "I let the people know it's not all my responsibility—it's our responsibility to share the gospel and to encourage people in our community," Kelly says.
And when it comes to personal responsibility, one of the biggest things church members do is live their lives as an example to their community.
"I really believe the church should be family-oriented," Kelly says. "It teaches that a family can get stronger when they're involved in the house of the Lord. There's so much drama in the world today with families, but Christ is the one who keeps them together. Families can be better, and our communities can be better."
COSMOPOLITAN MISSION SERVICE BAPTIST CHURCH
Philadelphia, Pennsylvania
Facebook.com/CosmopolitanMSBChurch