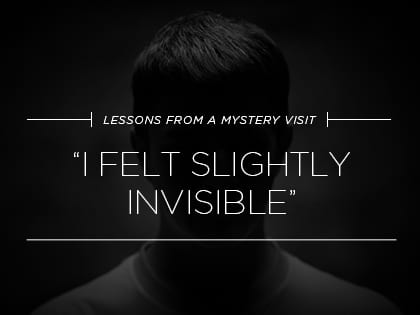 An unchurched person reports on an unannounced visit to a local church. Could it be yours?
A 30-something unchurched male visits a medium-sized church in Indianapolis, Indiana, on Dec. 4, 2016, at 10 a.m.
OVERALL SCORE
✭✭✭1/2
What was it like when you entered the building?
Four greeters wearing nametags occupied the entrance. Two of them welcomed me after they ended their own conversation. No one extended a hand, and I picked up a bulletin before they noticed me. No members asked who I was or where I was from. I felt slightly invisible.
✭✭✭✩✩
Was it obvious where the children's ministry was located and that it was clean, secure and well-staffed?
They clearly invest in their youth, and kids would have fun. I heard children laughing and observed them creating artwork. This church resides in an area prone to violence. Considering their open-door policy at all hours of the day and night, I would feel a bit uneasy about the children's safety. I do not question the intent of this church and its members, but outsiders may prey on their generosity.
✭✭✭✭✩
Did you observe anything that would lead you to believe that the church values diversity?
This church is top-notch when it comes to diversity and outreach. They are not hesitant to welcome someone off the streets expecting nothing in return. They aren't shy about reaching out to the LGBT community, homeless, rich or poor, male or female, differing ethnicities, etc.
✭✭✭✭✭
Describe the service.
The music was excellent. I was not expecting to hear opera music from such young choir members. The congregation was focused and serious about singing. The shaking of hands greeting gave me a chance to meet those around me, and everyone seemed sincere. This service was more of a concert as part of a series of holiday messages. They had a dozen speakers during the service who read different readings. If they had introduced the individual speakers, it would have helped me pull the service together better.
✭✭✭✭✭
Overall, how friendly would you say the church was to you during your visit?
After the service, the interaction I had with the pastor and a volunteer raised the friendliness bar.
✭✭✭✩✩
Would you return to the church?
My experience was mixed. I am mildly interested in returning. I like that they are open and passionate about helping people. However, I would not return simply because I did not easily follow the service structure. I also didn't get a feeling that the church was interested in meeting visitors. I would encourage others to visit for the church's rich history and opportunities to help others.
✭✭✩✩✩
Additional Observations
Was the nearby community aware of the church?
Before the service, I stopped at a Starbucks and spoke with another patron in the store. She frequented the area, but had not heard of the church. When I explained where it was, she said she had just not paid enough attention to the name of the church to recognize it and had no interest in stopping in.
How was the seating?
The seats were a bit narrower than I'm used to, though they were at least padded. The cushion was not attached, so I partially slid off the seat a few times. I arrived early to have many choices of seating. Once the service started, the sanctuary was nearly filled and everyone sat close together.
How recognizable was the church signage?
The outdoor signage was adequate, but the indoor signage was not the most helpful and the hallways were narrow. The various bathrooms and classrooms mostly had signs on them, but none of the signage was perpendicular for easy viewing.
How was the post-service atmosphere?
No one noticed that I was new and approached me with questions. When I walked outside, however, the pastor asked who I was and directed me to talk to another lady who provided some additional information. Before I left, the pastor invited me to his house with some of the other members. I was stunned, but suddenly felt like I was accepted. I was not able to go to his house.
How would you rate the information resources?
I left my contact information after they reminded me and encouraged me to do so. Their website had an "I'm New" tab that was clearly visible. It was the first thing I saw, so this was great. The rest of the site was easy to navigate, nice looking and had many examples of how to connect with them.
What is your overall impression?
My experience was fine, although I never settled in. Being unfamiliar with this denomination was tough enough, but not having any member approach me early on made me truly feel like an outsider. Offering a tour is especially necessary for this church, plus it automatically would connect a visitor with at least one other person. I left my contact information with them, but it's been a couple of weeks and I still haven't heard anything.
Adapted from a report provided by Faith Perceptions, which has evaluated more than 7,200 worship services across the United States. Visit FaithPerceptions.com.