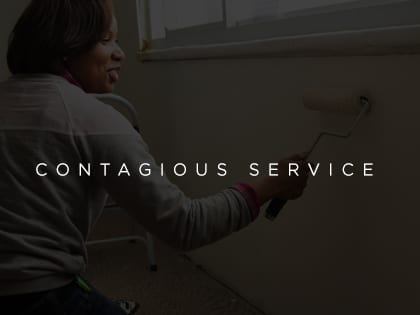 Lifepoint Church leverages small groups to reach the community through service projects.
The Church: Lifepoint Church in Lewis Center, Ohio
The Challenge: Encouraging church members to serve their local community.
One Big Idea: Leverage small groups to reach the community through service projects.
Lifepoint Church in Lewis Center, Ohio, operates under five core values, and one of them is serving others.
"Serving keeps us from turning inward as a church," says Executive Pastor Troy Palermo. "We want to build a church culture of service."
Lifepoint's small groups, called Lifegroups, are a big part of this community-minded culture. Kristy Low, the director of missions, says, "From the beginning, we wanted to do local outreach through our small groups. We know we can do more through our Lifegroups than we ever could using only a centralized corporate outreach model."
Lifegroups include 12 to 14 people and last for 12 weeks. During that time, groups complete a ministry project. They choose their own project and the church encourages them to serve where the Lord is leading. Past projects include volunteering at the food pantry or homeless shelter, providing makeovers to single moms, baking cookies for police officers and firefighters, providing groceries to families during breaks when the school breakfast and lunch programs are not available, and providing for the needs of children in the foster-care system.
The church provides a list of pre-approved organizations to partner with, should a Lifegroup not know how or where to start serving. But groups take ownership of their projects, and if they know of a worthy cause or needy person, they are free to choose that as their service project.
The church asks families to perform service projects together, whenever possible.
"We want to include children in service projects to help them develop a service-minded attitude, teach them selflessness and show them that being generous can be fun," Palermo says.
In 2016, the Lifegroups completed more than 70 service projects. Between 80 and 85 percent of the congregation of 2,100 participates in a Lifegroup.
"We want to meet spiritual needs, not just physical ones," Palermo says. "We want to share the gospel and make our culture of service contagious."
Find more ways to serve your community »
LIFEPOINT CHURCH
Lewis Center, Ohio
LifepointOhio.com
A 2016 OUTREACH 100 CHURCH
Attendance: 2,112
Growth in 2015: +405 (24%)
Fastest-Growing: 58