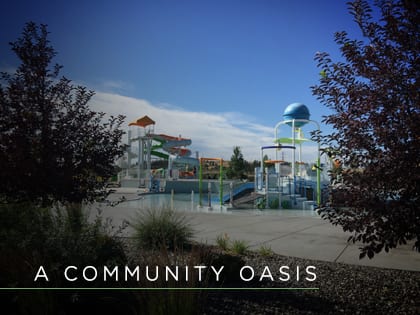 "How can we use our church property intentionally to bless our surrounding community seven days a week?"
In much of my work over the past decade, I have been tasked with creating gathering places for Christ-centered communities of all sizes, shapes and contexts. There are specific "formulas" and master plans I can follow to ensure space needs are met in terms of seating, parking and support ministry areas (kids, students, adults, etc.). However, I have learned to prayerfully seek God's "good, acceptable and perfect will" (Rom. 12:2), and that discovering the Master's plan requires moving beyond functional formulas like "square feet per person."
People define design "success" in many different ways. Some focus on beauty or accolades. Some focus on eye-grabbing innovation—regardless of existing community fabric and context. Some focus on functionality or cost-effectiveness.
While I believe that each of these qualities is necessary for a successful project, my personal calling and definition of success come out of an understanding of where we are in God's metanarrative—from creation, to brokenness, to the renewal of all things. For me, successful design restores shalom by creating and facilitating connections, both horizontally between people and vertically between us and the Creator. We are all called to join God in his ongoing work of restoring creation, or re-creation.
There was a day when a church's campus master plan was all about how many seats and cars could be packed onto a property to reach "carrying capacity." Today, the conversation should include, or even start with, "How can we bring maximum shalom to our city?" Rather than being a functional Christian country club that serves our internal faith community well for a few hours one day a week, how can we use property intentionally to bless our surrounding community seven days a week? This often starts with identifying the community's biggest "itches" that need scratching.
In our projects, we have often had the opportunity to update single-use, religious suburban campus sites into mixed-use, live/worship/play destinations that lift the spirit. Sometimes the "itch" is a need for a co-creative incubator commercial space, supplemental children's arts and education opportunities or community "third place" gathering spaces. Elements we have incorporated include YMCAs, children's museums, performing arts centers, premier regional adventure playgrounds, family entertainment parks and even water parks.
When Vern Streeter started Harvest Church in Billings, Montana, he was struck by the realization that city planners considered religious land use a "black hole" because it didn't generate sales tax or property tax and sat largely empty six days a week. He was determined that "we have to be worth more to the city than the lost tax revenue. We have to matter that much."
Billings is a geographically and economically divided community separated by a river and bluffs. Streeter experienced a holy discontentment when he saw that bonds for needed recreational space in his community would repeatedly get voted down by the majority of citizens on the other side of the divide. Before even launching their first worship service, Streeter had a vision of creating a spiritual, physical and social oasis for the community—a vision he had only shared with his wife.
Eventually, Streeter's vision became Oasis Water Park and community center. Then the city caught the vision and donated seven acres to the church, which resulted in the Better Billings Foundation, a center that provides community service, facilities, outreach and opportunities for family enhancement and youth achievement.
"There was no separation of church and state here," Streeter says. "It was the perfect partnership—a church-state partnership for the good of the community."
Oasis was an early element that positioned Harvest Church as a church for the community—which is one of several elements and initiatives that are a starting point for conversations, relationships and transformation.
Mel McGowan, an Outreach magazine contributing editor, is the co-founder and chief creative principal of PlainJoe Studios, a multidisciplinary design firm focused on storytelling from branding to building.