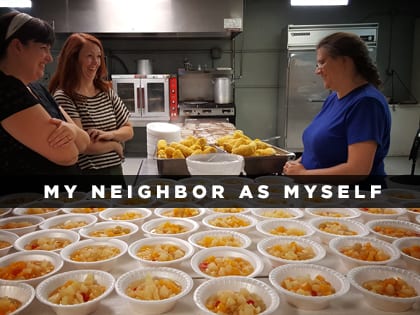 Neighborhood Fellowship serves as a refuge to many in the community with meals, clinics, education and more.
The corner of 10th and Rural on Indianapolis' near eastside is known for being a tough neighborhood. It is home to prostitutes, drug dealers and the homeless. It is also home to Neighborhood Fellowship, a church that serves as a refuge to many in the community.
Pastor Jim Strietelmeier heads Neighborhood Fellowship, and he also lives in the neighborhood. "If you live among the poor, and you love your neighbor, I've found that you'll always have plenty of people to share with," he says. "Living here gives me constant opportunities to do good."
Neighborhood Fellowship offers a free fellowship meal at every service. They have an emergency food pantry that is open anytime. "People can't schedule their hunger during certain hours, and when people are in poverty, food equals love," Strietelmeier says. The church also offers furniture and clothing to anyone in need.
Strietelmeier and his wife, Debbie, have a sign on their front door, telling the neighborhood to knock if they need help. For many years, people would knock on their door at all hours with medical emergencies.
"Many people don't have access to good medical care, so their chronic conditions become acute and then they need to go to the emergency room," Strietelmeier says. He would take them to the hospital, but he knew it was only a short-term fix for the community. For 12 years, the church prayed for someone with medical expertise to come and help.
Eight years ago, a doctor at the Indiana University Medical Center called Strietelmeier and told him that he wanted to start a free medical clinic at Neighborhood Fellowship. The doctor wanted medical students to run the clinic, and he also wanted Strietelmeier to witness to them when they came to volunteer.
Every Saturday, the Indiana University Student Outreach Clinic opens from 10:00 a.m. to 2:00 p.m. in the church building. Between 80 and 120 medical students from every discipline come to help, but before they open the clinic doors, Strietelmeier meets with them and tells them how long they prayed for someone to help with the medical needs in their community. Then he tells them that God loves them and that the leaders of the church are available if any of them want to talk. Several of these medical students have come to Christ because they volunteered in the clinic.
"It turns out, if you pray for a clinic for the poor, you just might get a chance to evangelize the doctors," Strietelmeier says.
Ten years ago, one of the teens in the neighborhood told the pastor that she planned to drop out of high school because she didn't feel safe there. "I told this girl that we loved her and we couldn't allow that to happen," Strietelmeier says.
Neighborhood Fellowship then opened a school in the church building. The school, called the Neighborhood Academy, uses the Accelerated Christian Education program and has an all-volunteer staff.
"Our local school has an abysmal graduation rate, around 20 percent," Strietelmeier says. "So our goal is just to get these kids their diplomas." During the first year, the school had four students. This year, enrollment is at 20 students, most of whom were failing in public schools but are doing well at the Neighborhood Academy.
Neighborhood Fellowship also runs a faith-based support group for mothers in the neighborhood, and an Overcomers group, in which former addicts minister to those who are struggling with addiction. They have an outreach program for the prostitutes in the area, as well as a job training to equip people with employable skills.
"Basically, when we see a pattern of need in our community, we work to fill it," Strietelmeier says.
Remarkably, Neighborhood Fellowship is a congregation of just 200 people.
"Our church takes a simple view of what it is to know God," he says. "We love him because he first loved us. In response, we try to fulfill the two greatest commandments: to love God and to love our neighbor."
Find more ways to serve your community »

NEIGHBORHOOD FELLOWSHIP
Indianapolis, Indiana