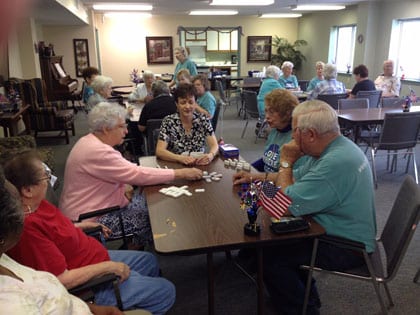 Cottage Hill Baptist Church in Mobile, Alabama, has a three-pronged program for reaching its large seniors population.
Rosa Lea Goss, 73, and other members of Cottage Hill Baptist Church in Mobile, Alabama, gathered recently before a group of elderly patients at a local clinical-rehabilitation center to sing hymns and share the gospel.
"To look out and see their faces makes me appreciate not only what I have," says Goss, "but that I can be a blessing."
Goss sings with Cottage Hill's JoySingers Choir, a group consisting of senior adults in the church's 55+ Ministry. One goal of the ministry is to keep seniors engaged and active in church, says Ronnie McCarson, Cottage Hill's pastor to adults aged 55 and older.
In fact, nationwide, adults aged 65 and older make up 20 percent of congregants at U.S. evangelical churches, according to a recent Pew Research survey. But at Cottage Hill, which has nearly 1,400 attendees on Sundays, the seniors make up about half of the attendees, McCarson says.
The church's 55+ Ministry is a three-pronged program. The Catalyst group consists of baby boomers, those born between 1946 and 1964. The Classics group is made up of seniors born between 1925 and 1945. The Care Ministry, McCarson says, serves shut-ins and caregivers.
In addition to offering guest speakers, recreational trips and access to an indoor walking track on the church grounds, the ministry encourages volunteerism and participation in mission trips, McCarson says. One group recently traveled to Louisiana to help flood victims.
One challenge, however, is scheduling activities for the younger members, McCarson says.
"Many of them are still working," he says, "and a lot of them are having to help raise their grandchildren and care for aging parents."
Consequently, he often schedules Catalyst mission trips for the weekends—but he affirms that the effort is worthwhile.
"If we can get people outside of themselves," says McCarson, "it changes them."