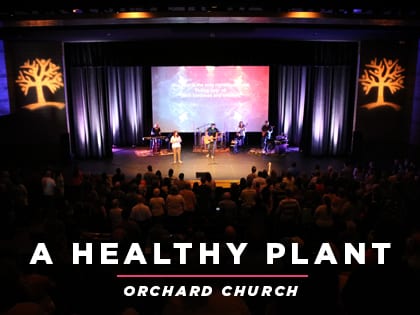 No. 29 Fastest-Growing: Orchard Church in Colorado Finds Growth Through Church Health
"If you focus on church health, growth will be a natural byproduct," says Doug Dameron, lead and founding pastor of Orchard Church in Brighton, Colorado.
The pastor points to his church's simple, biblical plan for growth. "Jesus said, 'I will build my church.' Nobody wants the church to grow more than Jesus does," Dameron says. "I think it's our responsibility as pastors to see that the church is in a healthy environment, so that it can grow the way Jesus intends it to grow."
Dameron began planting Orchard Church in July 2005, out of an apartment ministry in the Denver, Colorado, metropolitan area. He prayed for a clear vision so that his team could get involved where God was already at work.
God pointed them to Brighton, located about a 30 minutes' drive north of Denver, and considered one of the fastest-growing communities in the area. Because of the availability of affordable housing, Brighton has become a magnet for both retirees and young families.
The church plant held its first service on Easter 2007, and its numbers have grown exponentially since. Orchard currently holds three weekly services that meet in a local high school.
Dameron says the church was founded with a simple plan.
"Some churches are like The Cheesecake Factory restaurant, which has a menu like a phone book, and others are like In-N-Out Burger, which only focuses on a few things," Dameron says. "We are like In-N-Out. We just try to do three things really, really well."
To keep their church model simple, Dameron and his team use three words to help people understand the process: reach (Sunday morning services), relate (small-group ministry) and reproduce (one-on-one discipleship).
Dameron credits Orchard's intentional one-on-one discipleship process with playing a big role in maintaining the church's health. The church currently has more than 250 adults involved in meeting together for encouragement and growth. The adults meet in pairs, wherever and whenever works best for them. They could be found at McDonald's at lunchtime, or in the evening at Starbucks, for example.
"We take the Great Commission to make disciples very seriously," Dameron says. "We are not satisfied with mere attendees. Many churches talk about making disciples but don't seem to have an intentional process. I believe and have seen first-hand how God blesses a church that does what he told us to do by reproducing reproducers."
So with a simple message and an eye on healthy disciple-making, Orchard is attracting people like Ken Burger, whose family had once given up on church, but are now active in Orchard's fellowship.
"After every service my wife and I will talk about the message and how it directly pertains to our lives," Burger says. "It has tremendously helped us both in our marriage and in raising our kids."
The Connor family has a similar story.
"It's such an amazing body of people that we've encountered," says Kellee Connor. "The impact on our family in the last few months has been significant. Two of us have been baptized previously and the other three will be baptized this month. This is something I've prayed for, for many years. God is moving in our family and I can't help but be overjoyed."
So, what does the future look like for this growing Orchard? For one thing, Dameron hopes to be planting more churches in the surrounding communities and beyond. The church has been involved with eight other church plants, and Dameron is currently working with a church planting mentoring program. The goal is for more healthy growth and more kingdom fruit.
Read more Outreach 100 fastest-growing church profiles »
ORCHARD CHURCH
Brighton, Colorado
Lead and Founding Pastor: Doug Dameron
Website: OrchardChurch.tv
Twitter: @DougDameron, @OrchardChurchCO
Facebook: /OrchardChurchCO
Founded: 2005
Affiliation: Nondenominational
Locations: 1
A 2016 OUTREACH 100 CHURCH
Attendance: 1,588
Growth in 2015: +455 (40%)
Fastest-Growing: 29