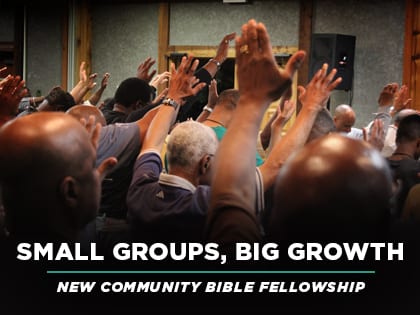 No. 33 Fastest-Growing: New Community Bible Fellowship in Ohio Bucks Tradition, Creates Life-Changing Community
Mark Burden is a pastor's son, but before he walked into New Community Bible Fellowship in Cleveland Heights, Ohio, seven years ago, he had fallen away from faith.
The circumstances of his divorce made him angry with God, so he stopped attending church except for a few times a year. But then his daughter invited him to join her at New Community, and he left that first service knowing he'd come back for more.
"I was hooked," Burden says. "I love going there. People sometimes embellish about their love for something, but you could put me in a pleated skirt and put some pompons in my hand, and I'd be the biggest cheerleader for the church."
Burden's experience isn't unique. In fact, according to Founding and Senior Pastor Kevin James, New Community has become home to many people who probably never thought they'd step foot in a church: Jews and Muslims who gave their lives to Christ, a marijuana-addicted 20-something, to name a few.
All of these people have been, or currently are, members of New Community, a predominately African-American church whose building is a former synagogue. But, James says, the church isn't doing anything unusual to reach the diverse population of Cleveland Heights and neighboring Cleveland. It's a combination of authentic love, a strong small-group ministry and a Sunday worship service that wows.
A product of the Bill Hybels seeker-driven church movement, James knew when he founded New Community in 1994 that it would do two things: emphasize small groups in building relationships and forming community, and keep Sunday worship upbeat, God-centered and arts-driven.
The church's heavy emphasis on a small-group ministry actually sets it apart from many of the other churches in the area, James says.
"It's a bit taboo, at least in this area and in African-American churches, to have small groups, especially when some of those small groups meet in homes," James says. Instead, many of those churches maintain more traditional Wednesday night and Sunday morning meetings at the church.
But members of New Community tell James all the time they're growing in ways they weren't able to before, thanks to being in a small group.
"They begin to grow as people, to connect with the Word of God and find their identity as Christians," James says. "They form incredible relationships. We've had a men's group throw a baby shower for a man whose wife was having a baby. A single parent put forward a prayer request for basketball equipment for her son, and the next week the group bought it. They babysit for one another. They're in the hospital with each other. They really are doing life with one another."
Burden is an example of someone who came to New Community never having even heard of small groups before, but who now can't imagine his life without them.
"I've been in a lot of churches, and I know a lot of preachers, but I'd never heard of small groups before I came here," Burden says. "I started out in a men's group, and now I'm in two adult Bible fellowship small groups. My first small group is where I met some great men. These are my best friends now, the nicest men I've met in my life, and before New Community, I had a hard time being friends with men."
While small groups meet throughout the week, Sunday services are also a huge draw for people in the community. The congregation worships God through creative arts, including music, dance and stage visuals. And people often tell James how much they enjoy Sundays. In fact, in 2015 the church added an additional service, for a total of three each Sunday.
"We had a feeling that more people wanted to be involved in our ministry, but we had some parking challenges," James says. "Sure enough, when we went to three services, we saw our attendance grow."
And whether in small groups during the week, on Sundays at church, or even out in the community at the church's annual Make Cleveland Better service project, people can't stop talking about how kind everyone is. James explains it like this:
"People say they feel accepted here. They feel God here."
Read more Outreach 100 fastest-growing church profiles »
NEW COMMUNITY BIBLE FELLOWSHIP
Cleveland Heights, Ohio
Senior Pastor: Kevin James
Website: NewCommunityBible.org
Twitter: @PastorKevinJ, @NCBFChurch
Facebook: /NewCommunityBible
Founded: 1994
Affiliation: Nondenominational
Locations: 1
A 2016 OUTREACH 100 CHURCH
Attendance: 1,480
Growth in 2015: +436 (42%)
Fastest-Growing: 33