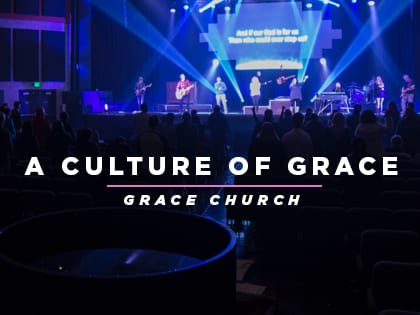 No. 89 Fastest-Growing: Grace Church in Nevada Focuses More on Culture Than on Programs
The five simple black letters, G-R-A-C-E, that don Grace Church's brick building give visitors a preview of what they'll find inside. True to its name, grace is the key to what makes this church stand out in the city of Reno, Nevada.
Grace Church was the result of a merger of two churches in 1990. Initially the church flourished, doubling in attendance over its first three years. After meeting on the University of Nevada, Reno (UNR) campus for five years, the congregation migrated into its own building. As soon as they moved in, they knew the building was too small.
Within the next few years, they added a third and fourth service and planted two other churches. One of the church plants, Living Stones Church, was on the Outreach 100 list in 2013 (No. 85 fastest-growing). It seems that growth was in Grace Church's DNA from the beginning.
Lead Pastor Dan Frank is a native Nevadan, having grown up in Sparks, Nevada, and graduating from UNR. After seminary, Frank moved to Reno and oversaw the Grace Church merger. As he reflects on his journey, he can't help but see God's guiding hand on the church.
"We never set out to be a big church," Frank says. "We were just trying to figure out what God was doing, and line ourselves up with God. He just began to add to our numbers."
But, as often happens in fast-growing churches, the increase eventually plateaued. Reno began to see more churches starting and more options for residents on Sunday mornings.
When the growth stalled, Frank says he assumed that this was as big as the church was going to get. But God had other lessons to teach the pastor. Five years ago, Frank became very ill and had to take a three-month leave of absence.
"I was deathly ill," Frank says. "Every day I would pray, 'God, if this is all I've got left, then take me home.' But out of that came a different perspective about how to reach the city. … The Lord taught me a lot about what it means to be grace-based, and how to implement that into a culture."
Frank then wrote a document that describes the DNA of Grace Church, and, upon returning to his position, he presented the church with a new agenda to reach the city.
"Reno is a place where there are a lot of hurting people," Frank says. "We've become a church where we try to pour grace out on people." He says that this is done but creating an environment of grace: a community where everyone, especially the lost and unchurched, feel welcome and at home. As such, Frank and the church tend to focus more on culture than on programs.
"Just being inside the church for five minutes, I could feel such a strong presence. It brought tears to my eyes," says Rachael Battenfield, who recently began attending Grace Church. "I haven't enjoyed church, or really gone, since my dad passed away in 2012. I think I found my home here at Grace."
Stacy Lance, a regular attender of Grace Church, also enjoys the church's welcoming, grace-filled atmosphere.
"I love everything about Grace," Lance says. "The people are truly amazing, wonderful, kind, nonjudgmental and giving in a way that is unbelievable. Being at Grace helps me to be a better person, and I love that."
The church has recently begun projecting its grace culture outward with intentional projects to bless the city, like the creation of a women's recovery home. With this external focus, Grace has earned a reputation as a "doing church," and that is attracting new people.
"We believe that a church that is just internally focused will end up dying at some point," Frank says.
Read more Outreach 100 fastest-growing church profiles »
GRACE CHURCH
Reno, Nevada
Lead Pastor: Dan Frank
Website: GraceChurchReno.org
Twitter: @DanGracer, @GraceChurchReno
Facebook: /GraceChurchReno
Founded: 1990
Affiliation: Nondenominational
Locations: 1
A 2016 OUTREACH 100 CHURCH
Attendance: 2,063
Growth in 2015: +307 (17%)
Fastest-Growing: 89