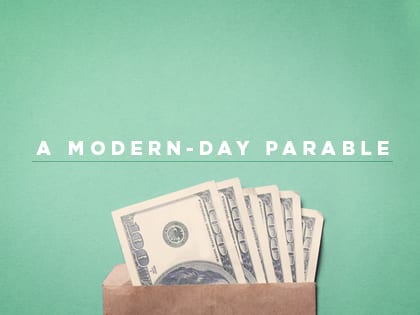 Ministry withdraws entire budget, divides it up and gives it to students with the instruction to multiply it.
Ocala United, an independent, nonprofit student ministry in Ocala, Florida, needed money for its outreach projects.
So in February, Matthew Overfelt, the ministry's director, withdrew its entire $12,000 budget from the bank, randomly placed $50 to $1,000 in envelopes and handed them to more than 100 middle and high school students at South Pointe Church where the ministry hold its meetings. His instruction: Multiply the money and bring it back in five weeks.
"I thought, 'This is crazy,'" says Carly Bigelow, 17, who got $100, "but I was excited to have the opportunity to use the money for God's glory."
The experiment launched the ministry's All the Difference program based on Jesus' parable of the talents in the book of Matthew. They explained to the youth that in the parable, a man gives three servants his goods, or talents, before leaving on a journey. Upon returning, he praises the servants who doubled their talents, but rebukes the one who buried his one talent in the ground.
"We wanted them to not just hear these parables," says Overfelt, "but to live them out physically so they could see what Jesus was teaching."
The students could work individually or collaboratively. Bigelow partnered with other teens to organize a free community family fun night featuring games, music and food. They raised $2,500 in donations, she says.
Another teen, Andrew Hurst, 18, says he and two others sold doughnuts, raising nearly $300.
"As we [watched] them go quickly," Hurst says, "I was like, 'God is faithful.'"
All the Difference raised $22,000, Overfelt says. While a few students did not increase their monies, Overfelt focuses on the project's success and its impact.
"Often, students just need someone to say, 'I believe God can do incredible things, but I believe in you, his servant, and that God is going to work through you.'"