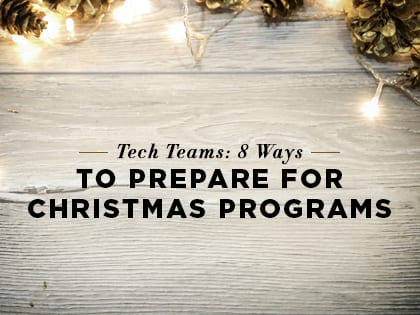 Audio and visual tips for preparing for Christmas services. It's never too early to begin planning.
It's almost fall—time to plan for the annual event that is sure to draw lots of family and friends. Start by contacting the program's director and request to be looped in on all program-related communications. Follow up regularly to ensure information is flowing. The complexity of the program can require regular meetings for active involvement between both parties, especially in the early planning stages. Once the script for the program is finished, it will become the blueprint from which work is based.
1. Keep an understudy in the loop on all communications and plans. They should be present for key discussions, rehearsals and other relevant times—able to step in at any time.
2. Schedule tech personnel as soon as possible.
3. Review all audio equipment in the inventory and ensure everything works. Don't assume those floor wedges backstage work!
4. Test stage jacks.
5. Consider equipment upgrades if the Christmas program requires more from the audio system than can be supplied. Equipment rental can solve a problem but renting every year is a sign that it's time to purchase the equipment. Always test rented or borrowed equipment as soon as it arrives.
6. Identify areas for training. Don't put a rookie camera operator on for the Christmas program. Get them behind the camera several times during the coming months and train them on setting focus and iris setting.
7. Plan for problems. Techs get sick. Microphones fail. Prerecorded audio stops working. Video switchers freeze up. Anything can happen. Determine alternate arrangements to work around each problem. Rate potential problems with likelihood and impact. Anything that ranks high for likelihood and impact needs to be addressed immediately.
8. Plan for parental requests. Every parent wants a recording of his or her child's performance. They could ask to record it from the tech booth. They could ask for an audio feed. They might even ask a tech team member to turn it on and off as it rests on the booth ledge. Plan for dealing with these requests in a manner that works best for everyone.
This article was originally published on ChurchProduction.com.