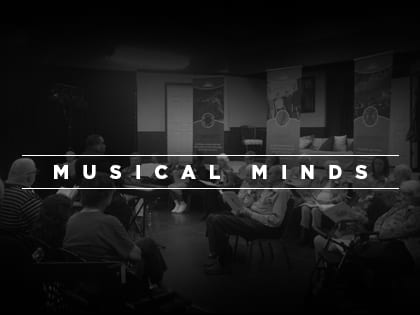 When choir members begin singing, onlookers cannot tell they have dementia, the director says.
Last year, a group of senior citizens with memory loss began gathering for choir rehearsal at Central Christian Church in Orlando, Florida. They belong to the Musical Minds Choir of Central Florida Community Arts, a nonprofit that aims to make the arts more accessible to the public by organizing choral, orchestral and theater groups.
The arrangement has benefited everyone involved, according to Rev. Thomas Norvelle. "We've had a lot of people come to our church through CFCA and become full members," Norvelle says. "It's been a wonderful symbiotic relationship."
Roughly 90 people attend Central Christian, and about 30 seniors take part in Musical Minds.
Christopher Shepherd, director of creative program development at Watercrest Senior Living Group, played a key role in launching the choir. He reached out to nearby Alzheimer's organizations and to CFCArts about starting a choir for seniors in cognitive decline, after learning about how music can benefit such individuals.
Related: Music ministry has transformative effect on seniors and the disabled »
"Our goal was to bring people who have some sort of dementia together in a way that does not focus on the disease but on the joy of life," Shepherd says. "Research shows people with dementia and Alzheimer's connect to music. If they hear a song, sometimes they can hold a [lucid] conversation for two to three minutes."
When choir members begin singing, onlookers cannot tell they have dementia, Shepherd says.
So far, the choir has performed before crowds of up to several hundred people at the church, a local botanical garden and retirement communities. They've performed Christmas carols and songs from the 1940s and '50s, which they remember from their youth.
"Some of the people in the choir can barely walk or barely speak, but they can sing," says Joshua Vickery, CFCArts founder and executive director. "We've seen their caregivers break down in tears to see their loved one come to life. It's pretty incredible."
Find more seniors outreach ideas »