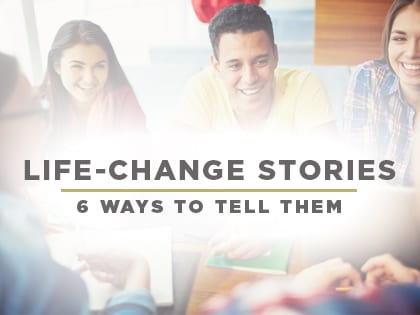 "Nothing breaks down silos like celebrating stories of life-change in your church."
Telling stories is a powerful way to demonstrate God's faithfulness in our churches and in our lives. The key is to be proactive in gathering stories and creative in telling.
1. Video in Services
The most obvious way to tell a story is to have the pastor work it into his sermon or to shoot a testimonial video to show during the services. It is an effective way to do storytelling and is probably the best way to get the stories in front of the most eyes. Also, don't forget to post those stories to YouTube and Facebook and share them on social networks to get even more mileage out of your video efforts.
2. Instagram Photos and Videos
Another great way to leverage videos is through Instagram. Short videos are easy for people to watch and push us to our creative storytelling best. Carry a camera with you at all times or give ministry leaders cameras they can use to take photos at their events. A picture is worth a thousand words, so capture those ministry stories through photos and share them as much as possible.
Tip: Create a hashtag and encourage people to share their own photos and videos on Instagram.
3. Other Social Media
Tweet links to photo albums on Twitter and share photos and video on Facebook, where you can also add a small amount of text to help tell the story.
4. Storytelling Blog
Start a blog of life-change stories. This option is great because it also helps to archive, catalog and categorize all of your stories, and people can go back and see how God has worked in the history of your church.
5. Email Newsletter
If your church sends out a weekly or periodic newsletter, consider telling a story at the top of the email. This is a great way to motivate people to do whatever you're asking them to do in the newsletter because they've already heard about how it can change someone's life. The bonus of using this method is it requires little or no media creation.
6. Ministry Meetings and Trainings
Start off your ministry meetings and trainings with stories about how God is using the ministry at hand (or other ministries for that matter—nothing breaks down silos like celebrating with another ministry area) to change lives.
Check out 5 creative ways to find life-change stories »
Chuck Scoggins is the executive director at the Center for Church Communication and the owner of 374 Media Group, a creative agency providing design, web and mobile solutions for smaller organizations. This post was originally published on ChuckScoggins.com.