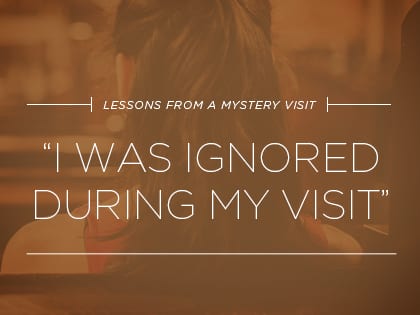 An unchurched person reports on an unannounced visit to a local church. Could it be yours?
—A 40-something female visits a megachurch north of Baltimore, Maryland, on Dec. 13, 2015, at 10:30 a.m.
OVERALL SCORE
2 1/2 stars out of 5
What was it like when you entered the building?
After I entered the lobby and the service room, I saw three greeters by the main doors. No one greeted me, or asked my name. From this initial experience, I felt awkward. They had no greeting for new people or visitors. The atmosphere did not make me feel like a part of the group.
*
Was it obvious where the children's ministry was located and that it was clean, secure and well-staffed?
They had age-based day care services for the children. Families also sat in the vestibule while their kids played and ran around. The church involved children in the service. I saw nothing in particular about a children's ministry or youth group activities. Children would enjoy this church since they have a school and a good number of children attended. Although I am not sure about activities for children, I would feel comfortable leaving a child in their care.
****
Did you observe anything that would lead you to believe that the church values diversity?
The church did not promote any examples of community involvement. The man who spoke after the message mentioned certain things about his missions-related children's ministry, but that was it. This church has a good number of children and youth, and seems to be middle-aged centric. I saw people of various races who clearly came from different backgrounds and socio-economic classes.
***
Describe the service.
They played contemporary music that was mellow, but not pious. The musicians seemed sincere, passionate about their parts, organized and structured. Most of the people engaged in worship that young and middle-aged people would enjoy. They had a formal greeting from the pulpit, but it was not directed towards visitors. People sitting near me shook hands. The well-done message lasted 30 minutes and the concept was easy to grasp. I can now differentiate between happiness and joy. Happiness is an emotion that is connected to "what's happening." Joy is more of a conviction than an emotion. Joy is the product of our conviction about our past, present, and future. The pastor was open, prepared, and had a vivid and welcoming personality. A large screen television in the chapel blasted Christian music and made it easy to follow along with the Bible verses he shared. I liked that the pastor used both real life examples and ones from the Bible during the sermon. Another speaker spoke about their mission's ministry. He ministered to the spiritual needs of children through a children's ministry program to help them receive Jesus into their life. His church sought to provide an environment in which children were taught at an age appropriate level, and were encouraged to develop a relationship with Jesus Christ.
***
Overall, how friendly would you say the church was to you during your visit?
I didn't feel welcomed by the church as a whole. It looked like everyone attended to hear the sermon and go about their day individually.
*
Would you return to the church?
I am not willing to return due to how I was ignored during my visit. I don't like feeling like an outsider. I would encourage others to make their own decisions. Younger families with children are more likely to be attracted to this church.
*
Additional Observations
Was the nearby community aware of the church?
I stopped at a local store on my way to the church and asked people for directions. The man at the counter was about 40 years old. He knew exactly where it was and stated that the neighborhood was aware of the church. On weekends, everyone can see a large group of church members entering the church, and they usually fill the parking spaces on the block.
How was the seating?
The church was well taken care of and organized. They had hard church pews and the availability was fair. The benches were full, and there weren't gaps or separation anywhere.
How recognizable was the church signage?
They had obvious church signage on the road, but no signs for parking. When I parked my car, I saw a large group of people drinking and eating. I wasn't sure if this was a church or just a cafè as I didn't see any outdoor signage with worship times listed. Once inside, I easily found the worship room. It was the only room with a large double door in the lobby. I didn't see any visible signage directing visitors to other rooms including the restrooms.
How was the post service atmosphere?
They had coffee and doughnuts available after the service, but you paid a flat price for the items. The atmosphere was busy. I personally did not feel like part of the group, and I felt more invisible than anything.
How would you rate the information resources?
The church did not provide any information to new visitors. I saw no bulletins, no brochures, and no gifts. I didn't see any sign-in sheets or anything of that sort. I asked the greeters to give me a bulletin. They said the church does not have bulletins.They could only give me a printed invitation that explained upcoming activities. I saw people with those invitations. I visited the church website. I like to see a "news" or "blog" section on a homepage. The church homepage doesn't show any signs of life and lacks clarity. Headlines and dates aren't enough. It should appeal to its specific audience, and it should present a positive image.
What is your overall impression?
They had no in-service greeting. They need to establish this as a part of the service. The formal greeting from the pulpit was a general greeting. They had no specific greeting welcoming visitors. They should work on the interaction they have with each other. They use social media, have a website, but no bulletins, and no information pamphlets that can give visitors an idea of what to expect.
An unchurched person reports on an unannounced visit to a local church. Adapted from a report provided by Faith Perceptions, which has evaluated more than 3,500 worship services across the United States. Visit FaithPerceptions.com.