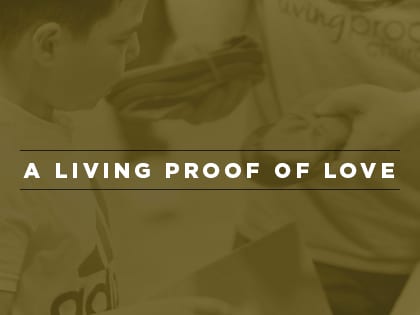 Numbers started growing at Living Proof Church once people saw that the church was helping their friends and neighbors.
When Pastor John Carabin first stepped inside the dying church he was assigned to lead in Groesbeck, Texas, his eyes widened. With cracks in the walls, floors and ceilings, the building was literally falling apart. But that wasn't the worst of it. The congregation consisted of just nine people, all from the same family.
Carabin soon learned, however, that his nine-member congregation was supremely dedicated to not only fixing the church building but also rebuilding the church's reputation in the community.
First up, they changed the name to Living Proof—a testament to their commitment to being living proof of Christ's love to their city. The next step was learning the community's needs. "There are two groups of leaders in any small town," explains Carabin. "The people in elected office and the old men in the coffee shop."
Carabin talked to both. Initially, everyone was skeptical of the church's promise to get involved. The members of Living Proof started making themselves visible in the community by cleaning up yards after big storms, sweeping parking lots for business owners, delivering free cookies to bus drivers and donating personalized Bibles to firefighters. They also partnered with an organization called Rural Compassion to distribute new shoes, backpacks and school supplies to local schools at little to no cost.
Numbers started growing once people saw that the church was helping their friends and neighbors. "An active church is an attractive church," notes Carabin. "People get tired of lip service. They want ownership in the ministry."
An atheist attends Carabin's men's group because he loves serving others. "That's the great thing about a service ministry," notes Carabin. "It attracts people who are looking for Christ but don't know it yet."
Average Sunday attendance is now around 90. Future plans include building a new church down the street and across town. "In a rural town you can't just pastor your own church," says Carabin. "You have to pastor the community, and if you don't do that, then you're failing your town."
Find more ways to serve your community »

Read more church profiles »