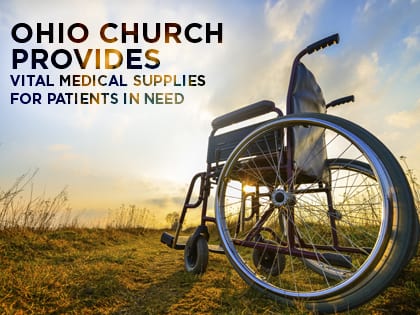 Ministry at Peace Church in Pickerington distributes hospital beds, wheelchairs and other equipment to local patients.
As a home occupational therapist, Bonita Chavis of Columbus, Ohio, says she has clients whose insurance will not pay for the medical equipment they need to live independently.
"I have a young lady right now who has no income," says Chavis. "She was turned down for Social Security and her insurance pays for very little."
In such cases, Chavis turns to Peace Church in nearby Pickerington for help.
"We got her some bathroom equipment for bathing and to transfer safely," says Chavis. "She was so appreciative."
Peace Church, with a Sunday attendance of about 500, operates the Helping Hands Medical Equipment Ministry. The ministry collects used hospital beds, wheelchairs, canes, walkers, transfer benches and other medical equipment that individuals and healthcare facilities donate to the church, says Linda Hottle, the ministry's director.
The church then lends the equipment to needy individuals, free of charge, for as long as they need them. Requests for equipment often come from physical and occupational therapists, social workers and hospitals.
The ministry's 40 volunteers include drivers who pick up and deliver equipment, as well as "Scrubbers for Jesus" who clean and disinfect each item. Other qualified volunteers repair and inspect each item for safety, she says.
Hottle recalls one elderly woman who slept on the floor of her home until the church gave her a hospital bed.
"It's amazing how many have said, 'this is just a blessing' or that we're God's angels."