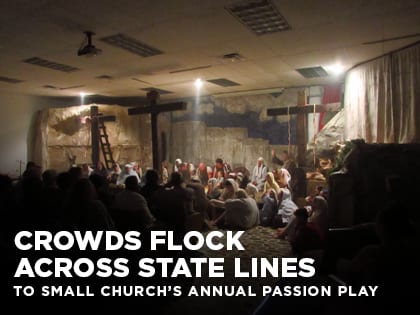 Church in New Galilee, Pennsylvania, population 400, attracts hundreds of guests each year for Easter-themed play.
The town of New Galilee, Pennsylvania, is just an hour drive's north of Pittsburgh but worlds away from city living. It's so small that it doesn't have a stop light and a population of just around 400.
But every year, around twice that many people pack into New Galilee Church of the Nazarene for a passion play that draws crowds from places as far as Ohio and West Virginia.
The church's annual passion play, "God With Us," is "just a bunch of ordinary people with an awesome story to tell," says Assistant Pastor Andy Russell.
In its eighth year, the play is a labor of love. From the very beginning, each church member has participated in one way or another: acting, set building, costuming or simply bringing food to Sunday night practices. The first year, around 40 people pitched in, and the play was more primitive. Now, church attendance has almost doubled, and the play reflects that. Performances have increased from four in the first year to 12 in 2016.
"I said in the very beginning that we all had to do this, not just a few of us," Russell says. "This wasn't going to be a rinky-dink thing. We were going to put our heart and soul in it, because this would be how we'd reach people for Jesus."
At the end of each performance, Russell stands before the audience, a spotlight on the cross, and invites them to give their lives to Christ. The smallness of the venue creates an atmosphere thick with the presence of the Holy Spirit.
"If we went to a bigger venue, it would lose the intimacy," Russell says. "You can't get away from it. As the play goes on, you find yourself so involved in it. It draws you in and keeps you there.
"Jesus on the cross is maybe just four feet away from people in the front row. And we don't hokey pokey the crucifixion. I don't want people going, Man, that looks fake. It's not phony."
Russell, who works as a diesel mechanic during the week, says no one in the church is a professional actor, yet they pool their talent, creativity and resourcefulness to produce a play that draws a packed house for each performance.
For example, a group of church members built a water well out of Styrofoam blocks that they found on Craigslist. They turn a CD at an angle to create rainbows during one song. Bicycle break cables allow the angels to open their wings. Even Senior Pastor Ed Hanley, who works for UPS loading trucks at 2 a.m. every day, volunteers as the photographer.
"They give all they've got, and it's beautiful to watch," Russell says. "Whatever you do, do it for the Lord. If I'm going to do anything for Jesus, I'm going to give my all. I preach that, and I've lived that."
With no advertising budget, the church relies on free advertising in the local newspaper and radio station, but mostly people come because they heard about it from someone else.
"I think about Jesus," Russell says. "He didn't have advertising and people flocked to him. That's the mindset I keep. If we do anything other than tell the story of Jesus, then we're wasting our time, in my opinion."
It's an enigma: A hodgepodge of regular folks. No advertising money. A tiny, old church building in the middle of a tiny town. And yet, New Galilee Church of the Nazarene's passion play keeps people coming back year after year.
Find more Easter outreach ideas »
Find more outreach event ideas »