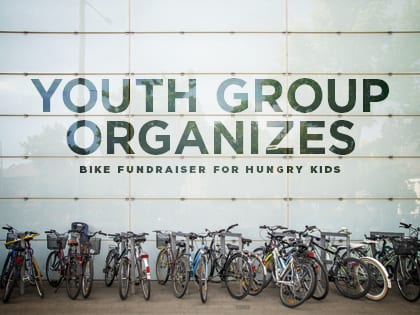 Students at Presbyterian Church of Fremont in Nebraska raise thousands of dollars for underprivileged schoolchildren.
The students who attend the Presbyterian Church of Fremont didn't hesitate to enter a youth philanthropy contest in their Nebraska community last year.
After brainstorming ideas about serving others, the youth proposed a bicycle fundraiser to route more food to needy families at a local school. The idea earned the youth group a $1,000 grant from the Fremont Area Community Foundation.
A food bank once provided underprivileged students at nearby Washington Elementary with multiple weekend meals, but budget cuts limited the program's reach.
The "Wheels 4 Meals" fundraiser proposed by Presbyterian Church of Fremont students sought to change that. To benefit Washington schoolchildren, the students completed a 15-mile bike ride, with supporters sponsoring each mile or making a single contribution. They raised $1,921, and a private donor who learned of their efforts donated another $5,000 for the meal program.
"We got the word out to spread awareness, and other community groups and businesses started to get involved as well," says Joy Jensen, former director of family ministries at the Church of Fremont.
Jensen says that the fundraiser taught students at the church, which has a weekend attendance of 200, that they can make a difference.
Youth group member Brittny Gier, a high school sophomore, enjoyed biking to raise money.
"I hope that we really made a difference for them, some of the kids who don't get lunch or dinner," she says. "We felt that the event very much satisfied what we're working to do, and it was a lot of fun for us. Our goal was really to raise awareness."