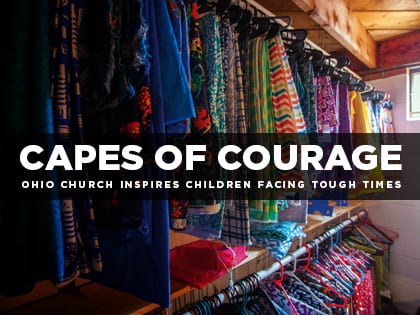 Volunteer-run ministry has touched the lives of more than 2,000 children with illnesses and special needs.
Two years ago retired real estate agent Debby Rowland sat down to watch a segment on NBC's Today show and gained unexpected inspiration for a ministry that has now touched the lives of more than 2,000 children battling illnesses, special needs and other challenging circumstances.
After seeing the segment, which featured a woman who makes superhero capes for children, Rowland partnered with Northampton United Methodist Church in Cuyahoga Falls, Ohio, to start Kids Capes of Courage. The ministry is composed of volunteers who sew superhero capes for children battling some of the toughest situations life has to offer.
As founder of the ministry, Rowland says, "Almost every day I get tears in my eyes thinking about how this is spreading."
Volunteers meet to pray, sew the capes and then distribute them to kids in local schools, hospitals and foster homes.
"It's very sad a lot of the time, because you're seeing children and parents in unbelievable situations," Rowland says. "And I just keep thinking, I'm just doing one little piece of something that hopefully brightens their day."
Recently, Rowland has helped 14 other churches around the U.S. start their own Kids Capes of Courage programs. Not all of the churches are affiliated with the UMC.
"As Methodists and Christians in general, we are called to impact the people around us, regardless of where they are in their faith journey," says Rev. Keith McLaughlin, lead pastor at Northampton UMC, which has an average weekly attendance of 300. "This is something that does that. It allows people to experience the love of Christ regardless of where their theologies lie. It cuts across barriers."
Find more ways to serve your community »