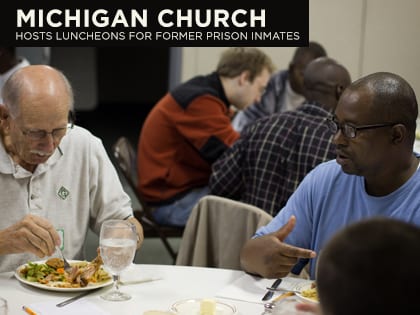 Lunch, Love and Support: Step of Faith Ministries in Grand Rapids, Michigan
Having struggled with drugs, Joseph Jones has been in and out of prison. Released from his last stint behind bars a year-and-a-half ago, Jones managed to kick his habit after a friend introduced him to Step of Faith Ministries in Grand Rapids, Michigan.
First, Jones attended a Bible study organized by Step of Faith. Next, he attended the bimonthly Men of Purpose luncheon for former inmates, or "returning citizens."
"I've been going every time they have them," Jones says. "It's a nice luncheon to meet people, to gain job leads, housing leads, to find people to help me with issues."
The luncheon includes a devotional, prayer and guided conversations at each table. In addition to returning citizens, community members such as businessmen and clergy members attend to offer their support.
Step of Faith pastor Stedford Sims launched the luncheon series three years ago to provide a nurturing environment for former inmates along with networking opportunities and encouragement. The fact that the diverse mix of guests share their life stories with each other contributes to the luncheons' success, he says. A middle-class man who's had every opportunity available to him will sit next to a man whose rocky start in life led him to prison.
"The key to the success of the luncheon isn't that we're providing lunch for returning citizens," Sims says. "The key is that we have men from different walks of life nurturing and learning from each other."
Men who practice various religious faiths attend the event—the luncheon primarily focuses on creating a positive climate for participants.
Jones, however, gave his life to Christ after connecting with Step of Faith. He has nothing but praise for the church of roughly 40 worshipers.
"They helped me get over my addiction," Jones says. "I don't do drugs any more, so I think that's a good plus."