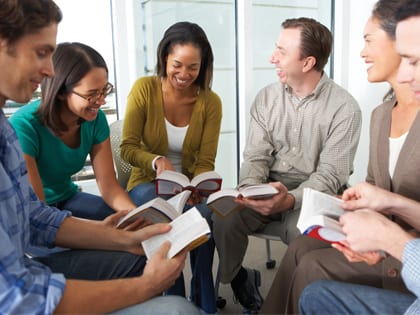 Shift your small group's focus outward with prayer.
The Outward-Focused Small Group Prays
As your small groups start up this fall, make reaching others a priority. Start with prayer! Pray not just as a group when you meet but daily as individuals and leaders to remain focused on others—sharing Christ in big and small ways.
As a Leader …
For your group members. That they grow in Christ and build confidence in sharing his hope with others.
For your group meetings. That your time together is meaningful and transforming; that people leave equipped for the days ahead.
For you. That you lead with an open heart, remaining focused on others.
As Individuals …
For boldness. That God would give strength at specific moments and in particular situations to shine your light through compassion, acts of kindness and grace-filled words.
For opportunities to share his love and hope.
For specific people. Exchange names of unchurched family members and friends. Pray for each other's people daily.
As a Group …
For direction. Ask for guidance on where and who to serve.
For openness. That inviting and including others stays more important than the group's "comfort zone."
For upcoming events. That the people invited to group events will come, connect with others and be excited to come again, visit church, check out other ministries, etc.