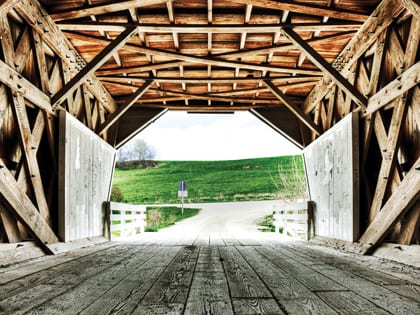 Congregation members struggling with mental health issues now have a point of connection in their faith community.
Pat George, a member of Ankeny First United Methodist Church in Ankeny, Iowa, is also an advocate for those struggling with mental health issues. According to the National Alliance for the Mentally Ill (NAMI), 6 percent of Iowa's population has severe mental illness. That's approximately 180,000 people. George did the math and realized that, statistically, her 2,500-member church likely had 150 members who were dealing with mental illness.
"If you figure that everyone who is dealing with it is somehow connected to a family, then a sizable proportion of our congregation was not being ministered to," says George.
George teamed up with Jacque Coulson, Ankeny Methodist's director of care and connection, to create the Ankeny Mental Health Ministry Team, whose mission is to reflect God's love and to bring wholeness and healing to God's people through support, education and service.
The purpose of the ministry is to increase awareness of mental illness in the community, provide mental health resources for those in need, work toward increasing community support for mental health and sponsor educational meetings to destigmatize mental illness.
"My husband had a stent put in his heart, and we got all sorts of support, meals and prayers," says George. "But you don't go on the prayer chain when someone in your family is admitted into the psych ward."
Early on in the ministry, George and Coulson searched for resources to help them grow. They found Rev. Susan Gregg-Schroeder of San Diego, Calif., who founded Mental Health Ministries to help erase the stigma of mental illness in congregations.
"When faith leaders and faith communities are well-informed about mental illness, they can be an important part of a support network," says Gregg-Schroeder. "Medications may stabilize symptoms. But it's relationships and love that heal the soul."
The Ankeny Mental Health Ministry Team has partnered with NAMI to offer classes to those who struggle with mental illness as well as support groups for families who live with someone who is struggling.
"We're fortunate to have professionals on the ministry who offer a wealth of experience," says Regina Murphy, a NAMI family support group leader.
One of those professionals is Jim White, a licensed therapist who facilitates the eight-week Therapeutic Lifestyle Change class. White says that the course asks participating members for a solid commitment to make specific changes in their lives. One woman noted that it wasn't until she took this class and felt supported by her peers that she was able to follow through with making positive behavioral lifestyle changes.
Prior to the creation of the Ankeny Mental Health Ministry, congregation members were resistant to open up at church because they feared their peers would question their faith. Such resistance is not surprising given that some believe prayer alone can cure mental illness, according to George.
"That type of thinking puts a strain on faith and creates a huge cavern of biblical grief," she says. Now she is pleased that congregation members have a point of connection in their faith community.
"We've opened doors," she says, "and are continuing to open doors."