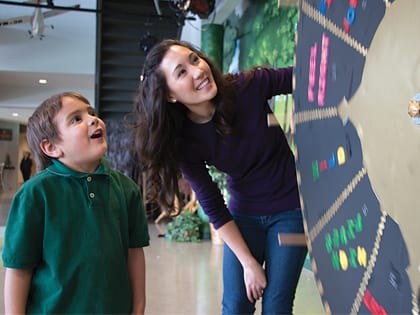 Appleton Alliance Church in Wisconsin Sets Up Sunday School to Engage Kids' Senses, Emotions
When Appleton Alliance Church taught children about loving their enemies, they had the kids build a huge sandcastle then line up behind their creation for a photo, only to have a masked man run through the sandbox and destroy it.
During a lesson about God's power, the children tried to part the waters of an indoor pond. Inevitably the youngsters failed, and the lesson turned to God's parting the Red Sea.
And after volunteers at the Appleton, Wis., church blended fruit smoothies with the kids at a café, they taught the children how a blended family can also be a delightful blessing from God.
Getting the kids to the café, pond and sandbox for such creative lessons wasn't difficult—the church has a 51,000-square-foot indoor facility called Discovery Land that boasts those amenities and more.
"Kids learn more by doing than hearing," says Kris Smoll, director of Discovery Land, adding that the facility allows the church to "teach the word of God through hands-on discovery." Emotion-based learning is also part of the process, and the church writes its own curriculum to infuse lessons with aha moments.
The 8-year-old Discovery Land also includes Lego, art, treehouse and chalk-wall stations, through which children from preschool through 6th grade rotate each Sunday. The area is flanked by large windows, creating almost a "McDonald's Playland" look and feel to passers-by, Smoll says.
It was a big investment up front, but it's been worth it, she adds.
"The children's ministry is a major player in getting people to our church," she says, noting roughly 950 kids come through Discovery Land every Sunday—plus another 50 new visitors each week—while around 3,000 adults attend service.
The church recently launched Discover Land Global, which provides curriculum, resources and support to other children's ministries in a partnership model. Partner churches in developing countries have successfully piloted the curriculum using makeshift materials—and it works, Smoll says.
"Every year we've strengthened our program so the kids get to know God's Word," she says. "Now we want to share it with other churches."