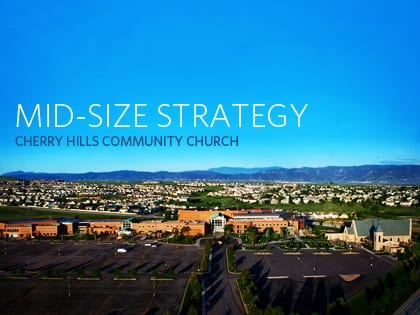 Teaching Pastor Craig Springer on the Connection Between the Megachurch Service and Small Groups
Last year, you began facilitating connection in a new way. What was the impetus?
The heart behind it is to solve the problem that megachurches face—that we've only offered two spaces for community and belonging, and I really don't think it's worked over the last 20-plus years. We've offered the best of big-church environment—fantastic teaching, passionate music, programming. And then, if you want to go deeper, you sign up for a small group, and we'll blindly match you. So, you go from connecting with the masses and then suddenly stepping into an intimate space, which can be a very awkward social dynamic.
You've created 15-plus "section communities." What are these?
What we want to do is build a mid-sized community environment around the most important hour of the week when all the guests come—Sunday morning services. You get the best of the small church feel—you walk in, people start knowing your name, they're saving you seats, shaking hands, you're doing a potluck once a month or so. You feel known. You don't have to be best friends though. You can build relationships at the acquaintance level. Then over the course of time, you've got a set of acquaintances and from there, we equip you to form small groups.
How are these communities organized?
Some of our section communities are based on affinity, some on life stage, interest level and some on the geography of where you live. And these communities sit in the same seating area together. There's a section leader—we pay them and an operations coordinator for 10 hours a week. These are high-capacity volunteers that we've commissioned. They create the most welcoming set of 100 to 150 seats on the planet. They develop a core team of about 20 people and they meet monthly. We train the leaders to attract core teams that are the kinds of people they would be comfortable sending any one of their non-Christian friends or timid new Christians to spend time with. No cringe factor.
Do communities spend time together outside of worship?
Every section does a post-service community gathering on campus—and we pay for it.
People often want to meet off campus—go to the Broncos game or something. But no—the goal is on campus, immediately after service, because there's always a newcomer, and the further away from the service and doors this gathering is, the less likely they're going to show up. So, you're never more than three weeks from being able to say to someone, "Hey, why don't you hang out with this group of people after service and we'll get to know you?"
And then each section does outreach activities for the network they're targeting. We've got some sections that are parents of high school students. They do tailgating parties for Friday night football games and try to get to know other parents and invite them to church on Sunday, for example.
What's the biggest challenge in creating these communities?
The biggest challenge is and always will be getting the right leaders. You need someone who's a ministry builder with a magnetic personality—spiritually mature, with an evangelistic heart, and has proven all these things with years of service in some capacity. The strategy will fall apart if you don't get initiators who are inspiring to be around. We're looking for people who have already built a network of people around them, and then can build from there. We're hiring leaders who can essentially build small churches—they need to be almost like a small campus pastor.
CHERRY HILLS COMMUNITY CHURCH
Highlands Ranch, Colo.
Senior Pastor: Shane Farmer
Website: CHCC.org
Founded: 1982
Affiliation: Evangelical Presbyterian
Locations: 1
A 2014 OUTREACH 100 CHURCH
Attendance: 6,201
No. 1 Fastest-Growing
No. 88 Largest
CONNECTION POINTS
About 75-100 people in 15 Section Communities
Launching one community a month
—Interview by Heather Schnese