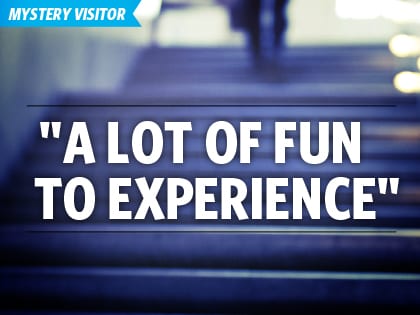 An unchurched person reports on an unannounced visit to a local church. Could it be yours?
—A 20-something male visits a 150-attendee church in Seattle, Wash., on Feb. 9, 2014, at 11:00 a.m.
OVERALL SCORE
♦♦♦♦
What was it like when you entered the building?
A man handed me a bulletin. He was friendly, but didn't offer much more than a welcome. No one greeted me when I entered the worship area, but the atmosphere was friendly. I'm not terribly gregarious, so for me it was perfect. I felt comfortable.
♦♦
Was it obvious where the children's ministry was located and that it was clean, secure and well-staffed?
I don't have children. I saw no glaringly obvious safety concerns or anything of the like. I didn't find much information in the way of signage.
♦♦♦
Did you observe anything that would lead you to believe that the church values diversity?
I saw a great deal of diversity with people from various ethnic backgrounds and age groups. I would have been hard-pressed to find an unrepresented demographic, which I liked a lot. I also enjoyed the Spanish and Korean translations in one of the songs we sang.
♦♦♦♦
Describe the service.
I haven't been to church in a long time, but I recognized a couple of the songs. They were presented in a contemporary fashion, though. The music on the whole was fairly blended, which I liked. The musicians were sincere and engaged, and the congregation got into it as well. The music was appealing to pretty much any age group. The greeting, too, felt just right. A few greetings from the pulpit were sincere and appreciative of newcomers. I thoroughly enjoyed the 45-minute message and left with a good sense of what had been communicated. The pastor emphasized the Trinity and that God is both diverse and unified, as man ought to be. The pastor did a great job delivering her message. She did the research and was comfortable in the pulpit. She was easy to listen to, and really good at directing the attention of the congregation. With only Scripture and another book as aids, she was thoroughly on-point the entire time.
♦♦♦♦♦
Overall, how friendly would you say the church was to you during your visit?
I felt welcomed throughout the entire experience. I knew whom I could talk to if I had questions or concerns. The staff and congregation both seemed genuinely glad to see newcomers.
♦♦♦♦♦
Would you return to the church?
The only reasons why I wouldn't return are out of the church's control. I don't live nearby and I'm not really a believer. However, if I were a Christian living in the area, I would gladly return. This church has a lot to offer. It was open, diverse, tolerant, and honestly it was just a lot of fun to experience. I would recommend it to others.
♦♦♦♦
ADDITIONAL OBSERVATIONS
Was the nearby community aware of the church?
The employee at the gas station behind the church directed me to the church, but didn't know anything about it. The church is in an interesting area with many businesses that are close to the church. It was hard to tell if there really was a lot of community awareness or not.
How was the seating?
I was early so there were plenty of seats available. By the time the service started, I would have been able to find a seat if I had arrived late. It was also full enough that the service was well-attended and lively. The seats, honestly, had the perfect comfort level–not so comfortable that I was likely to fall asleep, but not so uncomfortable that I didn't want to sit through the entire service.
How recognizable was the church signage?
The church was simply laid out. I saw a few signs, but it was still clear where to park, enter and sit. Restrooms were clearly marked and the service area was large and obvious upon entering. I didn't notice any signs showing people where the children's areas were, but I didn't have children with me. If I had, there were a number of people I would have been able to ask.
How was the post service atmosphere?
The post-service atmosphere was much the same as it was beforehand. The people in attendance were comfortable with one another and the vibe in the room was good. That being said, I was again not approached, but if I had had questions or concerns I knew who was there to answer them, and the congregation seemed approachable.
How would you rate the information resources?
Overall, the website was quite good. It was well-organized and designed, and it was a piece of cake finding all of the information I was looking for. I liked the bulletin as well because it was simple yet informative. Every resource had a section where I could leave my information.
What is your overall impression?
I thoroughly enjoyed my time at this church. The congregation would do well to approach individuals they don't recognize, because many people like myself are a little shy and hesitant to reach out. Personally, I was 100 percent comfortable with the level of welcome I received, but if I were actively looking for a new church to attend, I might have been a little more put off.