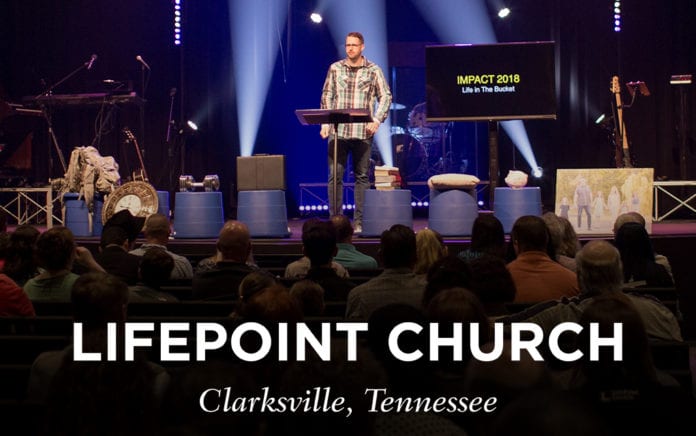 LifePoint Church in Clarksville, Tennessee, named fastest-growing church with release of the Outreach 100 American Megachurch Annual
LifePoint Church in Clarksville, Tennessee, has been named the Fastest-Growing Church in America on the Outreach 100 listings created in partnership with LifeWay Research and released in the 2018 Outreach 100 American Megachurch Annual, a special issue of Outreach magazine.
To survey churches for this report, Outreach partnered with LifeWay Research. The researcher contacted more than 30,000 churches to gather the self-reported data used to compile the lists. The information is then confirmed by phone, fax, e-mail and certified letter.
"The Outreach 100 offers a unique look at many of the churches on the lists to tell the stories behind the numbers—stories of transformed churches and individual life change," says Outreach magazine Editor James Long.
"As we talked to leaders of churches on the lists, we were encouraged to learn about local churches that are not only preaching the gospel, but also running free or subsidized grocery stores, providing hurricane disaster relief and making their multifaceted service to the community a priority," Long says.

The issue profiles 13 of these community-minded churches on the Fastest-Growing list, with a dozen more profiles online, presenting transferable principles and insights into their growth. These churches include Living Stones in Kailua-Kona, Hawaii (No. 100); Manna Church (No. 9) in Fayetteville, North Carolina; Christ Church in Fairview Heights, Illinois. (No. 54); True North Church in Fairbanks, Alaska (No. 26); and Grace Church in Avon, Massachusetts (No. 35).
The 2018 Outreach 100 also includes candid conversations with 22 of the Outreach 100 pastors, covering themes like what they wish they'd known when they started, what's trending in ministry and thoughts on the crisis of integrity in leadership. The 180-page report also includes in-depth interviews with Francis Chan and with Mike Burnette, who pastors this year's fastest-growing church; and a forum with leaders from Hope Church in Memphis, Tennessee, tracing their progression from a white suburban congregation to a multiethnic, transcultural church.
The Fastest-Growing and Largest lists are based on February and March weekend attendance averages. The Fastest-Growing list includes churches with attendance greater than 1,010, a numerical gain of 127 or more and a percentage gain of at least 5 percent. The ranking of Fastest-Growing Churches is determined by an average of their numerical and percentage growth. The list of largest participating churches includes congregations of more than 5,138.
Fastest-Growing Churches Fast Facts
The state with the most churches on the Fastest-Growing list is Florida (15), followed by Texas (10) and California (7).
Some 588,021 people are represented by the combined attendance of the Outreach 100 Fastest-Growing U.S. churches. These churches added 71,896 people over their combined previous year's Fastest-Growing Church attendance, an average of 719 per church.
Combined, the 100 Fastest-Growing churches represent 374 worship sites, an average of almost four per church.
The youngest church on the Fastest-Growing list is Action Church in Winter Springs, Florida. (No. 2), founded in 2014. The oldest church is Brushy Creek Baptist Church in Taylors, South Carolina (No. 64), founded in 1794.
Largest Participating Churches Fast Facts
Some 1,112,886 people are represented by the combined attendance of the Outreach 100 Largest Participating churches.
Combined, the 100 Largest churches represent 560 worship sites. Saddleback Church in Lake Forest, California (No. 8), has the most with 19 followed by New Life Church in Conway, Arkansas (No. 17), with 18.
California has the most churches on the Largest list with 15, followed by Texas with 12.
Almost half (41) of the Largest churches identify themselves as "nondenominational."
The youngest church on the Largest list is The Church of Eleven22 in Jacksonville, Florida (No. 41), founded in 2012. The oldest is Mountain Christian Church in Joppa, Maryland (No. 83), founded in 1824.
Top 5 Fastest-Growing U.S. Churches
(Church Name, Location, Pastor, Attendance Growth by Number and Percentage)
1. LifePoint Church in Clarksville, Tennessee, Mike Burnette (Growth: +1,922; 103 percent)
2. Action Church in Winter Springs, Florida, Justin Dailey (Growth: +1,529; 84 percent)
3. Crossroads Church in Cincinnati, Ohio, Brian Tome (Growth: +6,867; 24 percent)
4. Life Church Green Bay in De Pere, Wisconsin, Shawn Hennessy (Growth: +1,213; 39 percent)
5. The Bridge in Spring Hill, Tennessee, Josh Howerton (Growth: +885; 55 percent)
Colorado Springs, Colorado-based Outreach magazine offers the ideas, insights and stories of today's outreach-oriented Bible-based churches. Founded in January 2003 by church communications company Outreach, Inc., Outreach is an award-winning and leading periodical for church leadership. Outreach is available by subscription. For more information, OutreachMagazine.com/subscribe.
Order individual or multiple copies of the full 180-page report »
Tell me more about this issue »
The Outreach 100 lists were compiled by LifeWay Research and include only Protestant churches—as defined by the American Religious Data Archive—that opted to participate in the study. The Outreach Magazine/LifeWay Research Special Report is based on a self-reported survey, not an independent investigation. Outreach and LifeWay Research are not responsible for errors or discrepancies in self-reported data or churches not opting to report. Copyright © 2018. All rights reserved. For more information on methodology, how to participate in the study of additional frequently asked questions, click here »