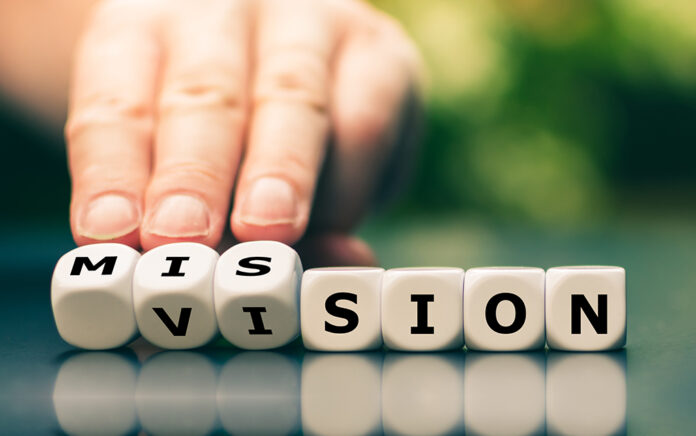 Recognizing the hallmarks of a Spirit-inspired vision
As leaders, I'm sure most of us have a mission and vision statement, or possibly even a strategic plan for the next three, five or 10 years. However, the book of Acts has given me a different understanding of a God-given vision, and it is this version that I believe pastors, church leaders and churches are in desperate need of today. 
Two of Paul's more famous visions are found in Acts 16 and 18. In Acts 16, Paul has a vision of the Macedonian man saying, "Come over to Macedonia and help us." In Acts 18, Paul has a vision while in Corinth in which the Lord says, "Do not be afraid, but go on speaking and do not be silent, for I am with you, and no one will attack you to harm you, for I have many in this city who are my people." 
The word for "vision" in these two passages—in addition to a few others like Acts 7:31, Acts 9:10 and Acts 10:3—is horama, which can refer to something seen while awake or something seen or experienced in a dream. Although the word for vision isn't used, there are other instances in Acts where people clearly experienced something while awake or in a dream (see Acts 7:55–56, Acts 23:11 and Acts 27:23–24). 
While no consensus exists on defining the exact meaning of visions or dreams in the book of Acts, I would define a God-given vision as a Holy Spirit-prompted communication that inspires people to faithfully follow God's plan for their life. And three aspects of a God-given vision are particularly relevant and applicable to ministry leaders today.
Different Seasons
Every time God gives a vision in Acts, it's always in a different context and within varying situations and circumstances. 
What is our situation? We've been in a global pandemic since March 2020. During that time, pastors have had to minister to those grieving the loss of loved ones, and in many cases, mourned the loss of their own family and friends. They also were tasked with leading through a heightened time of racial and political division that shows no signs of subsiding any time soon. 
It would be wonderful if I were able to say that none of these challenges have affected the ministry and mission of the church, but I can't. While I'm certainly aware of outliers, many churches are struggling. Some have seen a reshuffling of the deck as members have left to go to the church down the street that holds more to their political ideology, racial stance or COVID-19 policies. Others have seen their church substantially dwindle in size. As they attempt to relaunch ministries, volunteer slots are difficult to fill. 
I could go on about the challenges churches in North America face, but you get the picture. Many church leaders are discouraged, depleted and even depressed. If you can relate, you're not alone. The apostle Paul felt that way in Acts 18 while in the city of Corinth. In Paul's discouragement and fear, God showed up and gave him a vision. 
In a like manner, I believe God wants to meet you in your season and give you a bright vision. 
God's Mission
Another facet of God-given visions in the book of Acts is that they are always attached to his mission. For instance, the vision Stephen saw encouraged him to be faithful to the end. Ananias' vision told him to find Saul of Tarsus, minister to him and share God's call on his life. Cornelius' vision was about sending for Peter so that he and his household could hear the gospel. Peter's vision involved God's mission to the Gentiles. And Paul's visions in both Acts 16 and 18 involve God's direction and encouragement during his second missionary journey. 
God-given visions will never be separate from his mission. God's plan is always in accordance with his mission of redeeming a people from all peoples so that they might reflect his glory in all spheres of life. 
What kind of God-given vision do you need to help facilitate God's mission through your church? Do you need guidance? Do you need wisdom? Do you need encouragement? Do you need power? Do you need direction? Do you need laborers? Do you need resources? Do you need strategy? 
Regardless of what you need to participate in and mobilize people for God's mission, he wants to give you the vision you need in the season you're in. 
God's Provisions
We live in an age when vision-casting and strategic planning are commonplace. However, most visions—while grand, positive and well-meaning—aren't God-given but God-invoked. They come about when pastors create a vision and then invoke God to bless it. The distinguishing factor between a human-invoked vision and a God-given vision is that God gives the provisions necessary to see his vision become a reality.
When God gives a vision in the book of Acts, he provides the resources necessary to turn that vision into reality. For instance, in Acts 18, one of the things Paul needed to have an effective ministry in Corinth was protection. The protection God gave Paul allowed him to stay in Corinth for 18 months. A sign of God's protection can be seen through Gallio's positive ruling regarding the case the Jews brought against Paul (Acts 18:12–16).
Think of God's provisions for his visions as energy supplements that endurance athletes take to fuel their bodies during a race. It's not that we need a long-term vision—we have that; we do, however, need short-term visions backed by God's provisions that move us further and deeper into our long-term mission. 
We need a God-given vision. But keep in mind, God-given visions are contextualized to where we are, what we need and how we need God to show up and provide. As you seek the Lord for a God-given vision, consider where your church is, what it is in desperate need of, and how it needs God to show up and provide. 
Josh Laxton is the assistant Director of the Wheaton College Billy Graham Center and the Lausanne North American Coordinator at Wheaton College.