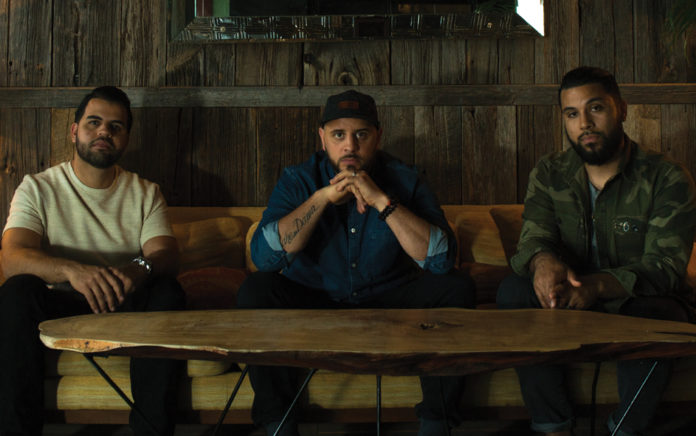 The Streetlights Bible app uses hip-hop to reach difficult-to-reach teens.
Esteban Shedd, the executive and creative director of Streetlights, was born in Chicago to Christian parents. His father was a pastor at an inner-city church, so he grew up hearing the gospel and came to faith at 15. He felt drawn to use music and the arts to reach urban culture. When he went to college at Moody Bible Institute, he met like-minded guys, and they started using hip-hop music as a bridge to reach out to their friends and the urban culture.
"I was witnessing God opening doors through the use of the arts," Shedd says. "At the core, it's always been How do we make Jesus Christ known by contexualizing the gospel so people can understand it, and it's meeting them where they're at?"
BUILDING BRIDGES
In 2004, Shedd began discipling young men from the community around Moody through his church. But as he led Bible studies, he noticed education gaps, particularly a lack of literacy, among the inner-city youth. In fact, according to the Chicago Literacy Alliance, 49% of Chicago's fourth graders are below basic levels of reading proficiency, and 39% of the city's public school students do not meet or exceed reading standards. These factors made leading a traditional Bible study difficult.
"Seven or eight of the 10 guys really struggled to read, so what became apparent when we were doing Bible studies was that it was really hard to get in the Word, and even more so when they left that environment of the Bible study," Shedd says.
What the young people he was discipling did understand was the language of hip-hop. "They listened constantly to hip-hop music, which obviously equates to thousands and thousands of words, and they would rattle off lyrics," Shedd says.
With a rich background in the Chicago hip-hop scene (he's a member of the groups Alert312 and Prisims), Shedd spoke this language fluently. So one auspicious night in 2006, he went to his studio and burned a CD of himself reading Acts 2–3 over a hip-hop soundtrack.
"I pressed play on a Wednesday night in a Bible study, and it was like night and day—their engagement, their understanding," Shedd says. "It was meeting them where they primarily learn, which is through audio."
Around the same time, a nearby ministry called GRIP Outreach for Youth was dealing with the same issues. They caught wind of Shedd's idea and expressed to him what would become a refrain from ministries across Chicago: An audio Bible was needed for urban young people. So Shedd and GRIP's executive director eventually formed a partnership, and Streetlights was born in 2009.Their goal? Partner with a variety of hip-hop artists to record the entire New Living Translation of the Bible in a multimedia format, and remove the barriers to engage with the Word of God.
HIP-HOP AMBASSADORS
In the 10 years since, Streetlights has recorded book-by-book the whole New Testament and Psalms in English, and parts of Psalms and a couple epistles in Spanish. They have also created three volumes of multimedia training and an ongoing devotional series called "Corner Talk" to help the biblically illiterate understand the doctrines of the Christian faith. And they've leveraged grants and donations in order to offer it all up for free.
"We have a core principle of making it free. We don't want to set up a fiscal barrier for our core demographic," Shedd says. "This is the age of the stream, anyway. We just want people to get the resources and have the Lord do work in their hearts."
Streetlights' reach has expanded from their original core audience of urban youth into a global phenomenon. The Streetlights app has been downloaded about 115,000 times in over 100 countries, and the content has been streamed nearly 2 million times on Spotify alone. They've heard from missionaries and ESL teachers who've been able to use it, and it is getting airtime on radio stations in the Philippines and Kenya. In Senegal, where the official language is French, Streetlights is spreading because of the global appeal of pop culture, hip-hop music and the worldwide influence of American media.
"How fast can an audio file spread these days with one share? We're in a multimedia, digital age. We're all learning through audio and video constantly whether we can read or not," Shedd says. "You either adapt to bring the gospel to the culture where they're learning, or you're not going to engage people with the truth."
Of course, spreading the gospel through audio is nothing new, but the Streetlights team is essentially translating the Bible into hip-hop lyrics to make it accessible to young people in their native tongue. Shedd draws a connection between his work with Streetlights and urban youth and the way God spoke to the early church.
"In Western culture, such an emphasis has been placed on studying the written Word, but you think about the early church—one person reading it to the house churches. God has used audio to pass down his rhema (spoken) out loud word," Shedd says. "Faith can come through hearing. Give them the opportunity to hear, and then trust that the Holy Spirit will draw people to Jesus."
Listen closely the next time you hear a kid in your community rapping along to the lyrics in their earbuds. You might just hear the words of Scripture.
Learn more at StreetlightsBible.com.
"THE LIGHT YOU GIVE"
So far away, your light rays seem faded.
I'm overwhelmed by the darkness, that's caving.
And my people say I'm a fool for trusting you.
But you met me on a corner, and light broke through.
For your love I'm runnin'
You the realest, you the realest
So I'm runnin'
You the realest, you the realest
So I dig it, I'm digging everything that you're giving.
Man, I'm living off the promise that you're risen.
That's a bond, on your word, you're the realest
You're the realest that this world has ever seen
Oh I've been—dipping color-grade agape glowing.
Sippin' on this living water tryna grasp the moment.
Knowing I can't grasp it and these chapters gon' control me.
Filling up with poetry and prophesy done showed me.
Told me that I'm resurrected, walking on that string now.
I can't feel that sting now.
And death done lost the power I've been resting with the King now.
The chariots gon' swing low, that light be hittin' different.
The Lamb at the altar and the Lion in the distance.
—Prisims