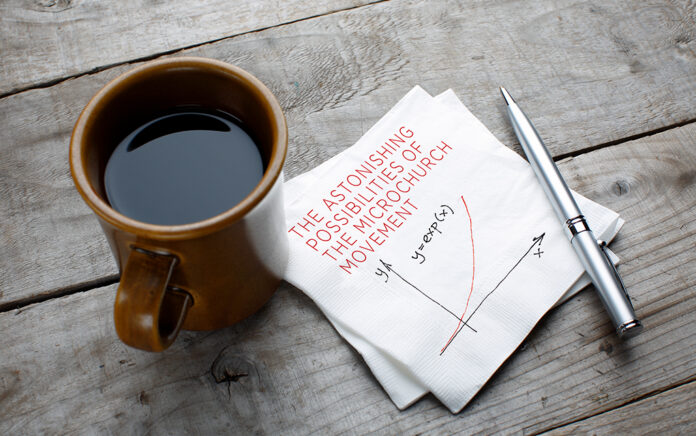 To make the greatest impact, we must shift our focus from making disciples to making disciple makers.
The church landscape is changing. Increasing numbers of leaders are awakening to the reality that we are losing ground in our addition- and growth-focused approaches. Many are beginning to wrestle with their personal measures of success and legacy. Here, Ralph Moore, catalyst of the Hope Chapel movement, shares what he believes will be the next step forward toward taking hold of a more effective Matthew 28 paradigm.
What church or ministry leader doesn't want to someday hear, "Well done, good and faithful servant"?
I've lived over 70 years of life, and to hear the words of the master to his servant continues to be my prayer. Just like the servant in Jesus' parable (Matt. 25:23), I've learned that being faithful requires me to leverage each and every one of my spiritual gifts, the skills that I've acquired along the journey and all of my resources for the sole purpose of glorifying God and advancing his kingdom.
Throughout more than 30 years of ministry, I've had the privilege and honor of coming alongside church planters and multiplying leaders, young and old, and helping them satisfy both the investments and callings that God placed in their minds and hearts. I hope to help you do the same. Granted, I don't know you personally, but I have no problem saying that I want you to die happy, with no regrets, knowing you did all you could with what you had—for your sake and for the sake of the kingdom.
To the Fourth Generation
What would it take for you to help bring 100,000 people to faith in Jesus Christ?
I doubt you get asked that question often (You would if you hung around me.). My guess is your first thought is "platform": If I just had a bigger platform that allowed me to speak to more people, then I could make a wallop of an impact for the kingdom.
But what I'm talking about isn't about mass media or growing your church (though growth is often a byproduct). I'm talking about straight-up direct disciple making. I'm convinced that every church pastor could make one simple paradigm shift that would drive their lifetime accomplishment from thousands of disciples to at least hundreds of thousands—if not millions. It has been done in other countries, and I fully believe it can be done in the United States.
Before we go any farther, let me say that the key to this kind of impact isn't making disciples. It's subtle but significantly different. To make the greatest impact with what we've been given, we have to make disciples who make disciples who make disciples. We must shift our focus from making disciples to making disciple makers. And, as Paul points out to his young apprentice Timothy, we have to make disciples that multiply churches that multiply churches to the fourth generation. In 2 Timothy, Paul writes: "And the things you have heard me say in the presence of many witnesses entrust to reliable people who will also be qualified to teach others" (2 Tim. 2:2) .
How do we multiply like this? Making disciples and teaching others takes time and people—especially if we follow Jesus' example and make disciples through life-on-life relationships. My guess is you're thinking, I don't have enough staff or volunteers to take on this kind of exponential disciple making. You would be right. You don't have enough staff or volunteers—chances are you never will.
Over the last 30 years, I've discovered that when we widen the pathway into pastoral ministry, we see how the Lord may have already answered our prayers for more labor for the harvest. I want to present one option for multiplying your church into an expanding movement of churches. I'm the first to say this isn't an end-all solution for world evangelism, but it is a simple, workable approach to church multiplication that any leader can implement.
A Shift From Addition to Multiplication
If we're honest, the American church culture has spent decades focused on growth. Think about it. All of the church leaders we tend to hold up as examples and look up to are leading large churches. You could say we've adopted a "bigger is better" approach. But, again if we're honest, we'll acknowledge that all of our focus on "bigger" hasn't produced enough church growth to keep up with the population—let alone bring the world to Jesus. The only way we're going to disciple a nation (or nations) and carry out Christ's Great Commission is by shifting from an addition to a multiplication mindset.
How do we make this kind of potentially world-changing shift? In their book, Becoming a Level 5 Multiplying Church, authors Todd Wilson and Dave Ferguson (with Alan Hirsch) share what I believe (and have witnessed firsthand) is a useful framework for helping us make this shift. The Becoming 5 framework looks at five cultures of multiplication in churches:
• Level 1 churches are living in a survival culture; they're struggling to exist.
• Level 2 multiplication is what we would call plateaued; Level 2 churches hold their ground but remain complacent.
• Level 3 culture is addition- or accumulation-focused, valuing numeric growth above all else.
• In a Level 4 culture, churches grow by adding services, sites and even planting new churches.
• In Level 5 culture, congregations multiply, mostly by discipling Christ followers who make disciples who make disciples who plant churches that plant churches (sound familiar?).
Three Catalytic Assumptions
Throughout history, movements have been built on assumptions or tenets. The same is true for a churchwide multiplication movement—and a movement in your church with the potential to reach 100,000 people. The three assumptions below can help move us from megachurch to multisite to multiplication. And when we identify and understand these assumptions, we begin to build new forms of ministry that better service the function of the Great Commission.
Assumption 1: Most megachurch pastors are apostolic, but not all apostolic pastors lead megachurches.
An apostolic leader, whether they're in a large or small place, feels the need to keep moving. Some apostles, like Paul did, move from city to city. Today, most shift from project to project. If you're an apostolic leader, you're a catalyzer. You naturally spark change. You are a mapmaker, leading others on your most recent adventure. Your heart is to see the gospel fill the earth, and you believe that constant change is necessary to fulfill the task. Apostolic people instinctively seek new territory. If we can refocus this energy toward multiplying ourselves and our churches, we can grow our footprint to astonishing proportions.
Assumption 2: Every church contains the DNA for a movement.
Around the world, churches have morphed from single congregations into fast-growing movements. Look at Barnabas, Paul and the folks in Antioch.
Most American denominations got their start in the same way. The Methodist movement traces its strength back to Francis Asbury while Baptists became the largest segment of American Christianity via rapid church multiplication that's spawned from local churches.
Recent decades have seen three local churches: Calvary Chapel (Costa Mesa, California), The Vineyard (Yorba Linda, California) and Hope Chapel (Hermosa Beach, California) morph into movements (chronicled by University of Southern California professor Donald Miller in his book, Reinventing American Protestantism) .
This requires a shift in the way we view church, coupled with a different perspective toward mobilizing church members. Instead of thinking of (and treating) a congregation as a portal into fellowship, we can change the world by visualizing our churches as a platform to launch churches beyond our immediate geographic context.
Assumption 3: Every church should multiply.
The ascent of the American megachurch is both inspiring and disappointing. The rise is positive, but congregations exceeding 1,000 members still account for only about 10 percent of all evangelical churchgoers. These megachurches can't shoulder the load of cultural change alone, even with the benefit of a productive multisite model—a model or form that's beginning to bump against logistic ceilings. We need a new model for a new day. Church multiplication is the logical next step for U.S. churches.
Fortunately, you don't need to lead a large church to multiply. Let me say that again and let that sink in: You don't need a large church to multiply. More than 20 percent of new churches come from congregations numbering fewer than 100 in attendance. Congregations smaller than 500 people account for a whopping 60-plus percent of church plants. I can't think of a more encouraging and truthful message for leaders of smaller churches. The size of your church does not, in the slightest, limit your kingdom impact.
Microchurch As a Step Toward the Future
A microchurch is not "just another Bible study." Nor is it an expression of everyday missionaries from your church. It differs in these five ways:
• It is semi-autonomous from the platform church that gives it birth.
• It responds to the "go" of the Great Commission rather than the "come" of Level 3 churches.
• It brings church into cultures where people are not likely to identify with the cultural majority.
• Its elders are endorsed by the sending church as pastors, rather than marketplace missionaries.
• It is authorized to celebrate the sacraments and reproduce itself as its leaders see fit.
What if your church—regardless of your size—could strategically empower existing leaders to plant "microchurches" without abandoning their ministry careers? Essentially, they would be freelance church multipliers who remain in your congregation while planting small congregations among unreached people groups in your community. There's no premium on size—a busy doctor friend of mine grew a microchurch to a thousand people while maintaining his career. Ideally, these individuals would be bicultural—with one foot in your world and the other foot in another.
To make this profound shift, you need a sequence of five critical practices that can help you launch a movement of microchurches from a single congregation.
1. Construct a Working Theology.
Equip yourself with a library of church multiplication resources and soak them in. The free e-book Multipliers: Leading Beyond Addition is a great place to start. It covers several years' of content from Exponential, including the five levels of multiplication, three dimensions of multiplication, aligning a culture of multiplication, creating a vision for multiplication and anticipating the tensions you'll experience in moving toward multiplication. From there, assemble a working theology to describe how you might launch a church multiplication movement from within your local church that involves homegrown leaders or what I call mature apprentices.
2. Recruit and Disciple a Few Radicals.
Make it a habit to search out and identify the people in your church whom you believe could successfully launch a "discipleship-trained, single-salary, freelance-pastored microchurch." Narrow the list to those who like change, as these are the early adopters and map makers.
Disciple these people, beginning with the written theology you created in the first practice (which should be pretty informal). After looking through your library of resources, read and discuss books that might stoke their fire.
3. Plant a Church As an Experiment.
Help your disciples launch a microchurch with the understanding that it might always remain micro, or it may grow to whatever size the Lord deems appropriate. However, they should understand that you expect them to multiply a new church within the first 12 to 18 months.
Small-scale research and development are crucial. If your team is used to starting big, a big failure will defeat them. If the prototype fails, don't give up. Perform an autopsy of sorts to discern the causes of the failure. And then be sure to avoid the same mistakes in your second attempt.
4. Scale Up From Your Experiment.
Scale up by replicating what worked. Trim back whatever didn't. Endorse multiplication—not addition—growth. Be a hero maker—making heroes of the people who plant microchurches. When I began to give people the reigns or adopt a "You can do it. How can I help?" approach, I couldn't believe how quickly and how many were inspired to start a microchurch. Of course, not all of them succeeded. And there were some bumps, bruises and wounds along the way.
5. Build Support Mechanisms.
If you build a Level 4 network, support is simple. You can easily assemble materials and events to guide the network with you and your church in a hub-and-spoke franchise model.
If you commit to pursuing a Level 5 multiplication culture, your church will resemble more of a conglomeration of boutique churches. Granted, this paradigm is messy in a lot of ways, but the messiness gives way to greater multiplication. For Level 5 churches, support is necessarily more fluid and more difficult to maintain. You'll need 21st century equivalents of Paul's communication with a similarly messy movement. The good news is that you have technology (email, messaging and a dozen other tools) that allow for greater and quicker communication.
A Thousand Microchurches Multiplied
That the church in the U.S. is in trouble is undeniable. But it's not too late to turn the tide. If leaders like you and me learn to multiply, we can see a good down payment on the Great Commission in our lifetime.
Someone recently asked me, "What would you do differently in your life?" My answer, "Not much."
Given my family background along with American and church culture at the time I was growing into adulthood, I would do pretty much everything I did. I have some regrets, but not many.
A different question is more meaningful: "What would you do if you were just out of high school and felt called to pastoral ministry?"
That was me. A Bible college degree, apprenticeship and building the biggest church possible were my aspirations (in my case I was thinking of about 200 people). If I were 18 years old in today's climate, I would do lots of things differently. Ultimately, I would seek to multiply 1,000 "microchurches"—congregations planted by a pastor who intends to remain in their career and independent of the church for financial support.
You may not be 18, but if I still have the opportunity to multiply for kingdom impact, then I feel confident in saying you do too. My prayer for you is that you will have no regrets, knowing you did all you could with what you had—to the glory of the perfector and finisher of our faith.
Ralph Moore is the founding pastor of the Hope Chapel movement, now numbering more than 2,300 churches worldwide. He currently serves on the Exponential team as their multiplication catalyst and specialist in resource and tool development for multiplication. He travels the globe, teaching church multiplication to pastors in startup movements. Check out his new book on microchurches and multiplications available for free via Exponential.org.