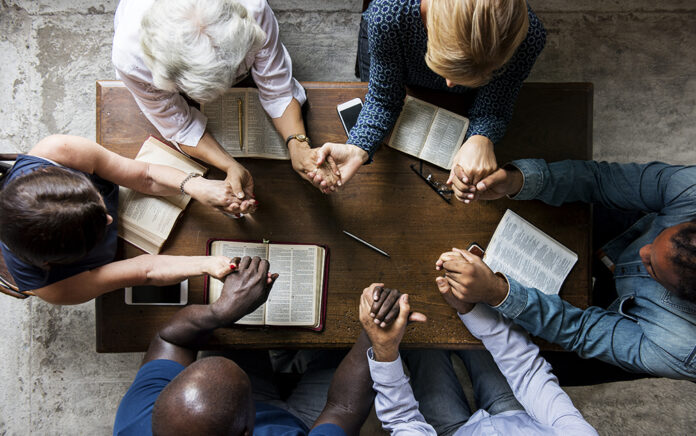 It was all about the importance of Christians spurring one another on, encouraging one another, and to not give up on doing that in the context of a world that demands perseverance.
There is a passage in Hebrews in the Bible that is frequently trotted out to denounce online church campuses:
"And let us consider how we may spur one another on toward love and good deeds, not giving up meeting together, as some are in the habit of doing, but encouraging one another — and all the more as you see the Day approaching." (10:24-25, NLT)
From this, many conclude that meeting together in Christian community for in-person worship services is being mandated by Scripture.
There is little doubt that we are to be worshipers, both public and private, and that one of the marks of the early church was gathering together to do just that (cf. Acts 2:42-47).
But this was not what the author of Hebrews was mandating.
The author wasn't talking about gathering physically for corporate worship or gathering physically for any church event. Instead, the author of Hebrews is speaking directly about not giving up on relationships; about not giving up on people.
It was a clarion call for the need to be faithful to interpersonal relationships as Christians with other Christians. Corporate worship was neither the context nor the subject. It was all about the importance of Christians spurring one another on, encouraging one another, and to not give up on doing that in the context of a world that demands perseverance.
That this is the meaning is heightened further by the Greek word used for our translation "giving up" meeting together. The Greek word translated "giving up" is a word used for desertion and abandonment. In other words, don't abandon each other relationally; you need each other's support.
It was the same word used by Paul when writing to Timothy about being personally deserted by Demas (2 Tim. 4:10), and then a few sentences later about everyone personally deserting him (2 Tim. 4:16).
It was also used by Paul in his second letter to the Corinthians when speaking of being "hard pressed on every side, but not crushed; perplexed, but not in despair; persecuted, but not abandoned" (2 Cor. 4:8-9, NIV).
Most pointedly, it was the word uttered by Jesus about His feeling of personal abandonment by the Father at the moment of His crucifixion (Mt. 27:46).
In every case, the issue was the betrayal of an individual, personal, relational commitment that left another feeling abandoned. The point of the verse in Hebrews is that we should not pull back from engaging one another relationally in ways that would stir us on to greater levels of love and good works, to never fail in being "iron against iron" strengthening one another (Prov. 27:17).
Taking this verse and this word, and making them about compulsory, in-person, public worship services has even been designated one of the great urban legends of the New Testament. It has less to do with going to a church service than it does keeping an appointment with a friend in need at a Starbucks.
Let's chase this rabbit.
Let's challenge ourselves that not everything we used to do in person has to be done in person – even what the author of Hebrews was calling for.
I can support and encourage someone virtually as well as physically unless their need is a physical one.
We need to be careful to not take how we've done things, how we have understood doing things, and make them normative. That includes what we have traditionally done in person. The mistake would be to assume that if we have always done something in person, it can only be done – and must continue to be done – in person.
Yet younger generations have the bulk of their community, not to mention their communication within that community, online. We can say, "You can't do community that way," but they will retort, "Well, sorry to tell you this, but you can, and we do."
The discipline is to think through everything you have done in person, gathered in a physical location – often on a weekend – and ruthlessly evaluate whether it just might have a digital counterpart or a digital manifestation.
You might be surprised how much does.
The reality is that for years now, long before COVID, almost every human was living in a slipstream between digital and physical interactions. It has simply been accelerated of late. As Carey Nieuwhof has written:
"You text your friend one second, pivot to a YouTube video the next to get a recipe for dinner, and then meet your family in the kitchen to cut some vegetables for the meal. For years now, you've moved seamlessly between the digital and the real. Church will be that way in the future too, which is why the hybrid church — offering both digital and physical ministry — is here to stay. People will be in the building one week, watching solo online the next, and the third gathering with some friends in a home or (better yet) serving in the community to be the Church."
Yes.
Read more from James Emery White »
This article originally appeared on ChurchAndCulture.org and is reposted here by permission.
Sources
David Croteau, Urban Legends of the New Testament: 40 Common Misconceptions (Nashville: B&H Academic, 2015), pp. 205-210.
Carey Nieuwhof, "The False Debate Between Online and In-Person Church (How to Plan for an Uncertain Future)," Carey Nieuwhof, March 7, 2021, read online.