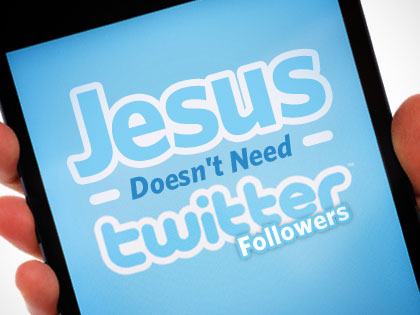 Brad Powell: If we're going to get our church back on mission, we have to get them actively following Jesus.
Q: Our church is full of people who claim to be following Christ but refuse to get involved in the mission he gave us. They aren't doing anything personally to reach the lost, serve the poor, help the hurting or make disciples. They love attending church and listening to sermons, the "deeper" the better, but they do nothing with them. What's the problem? How do we change it?
A: You're not alone. It's a problem we have to fight in all of our churches. I believe the problem stems from a basic misunderstanding of what it means to follow Jesus. Twitter provides a great picture of the problem.
Twitter is built on the concept of "following" people. But to follow someone doesn't involve changing your life. All you have to do is click "follow," and it's done. Then, you wait. You wait for them to deliver some inspired or helpful golden nugget for you to ponder—or not to ponder.
Interestingly, even if you never read any of their tweets, you are still considered to be "following" them. It's a very passive relationship. There are no responsibilities. There's no accountability. There's just a one-time click on a "follow" button. It's easy.
Sadly, this has become the perfect picture of what following Jesus means to many professing believers and churches. It's a passive follow rather than an active follow. All a person has to do is say a prayer, get baptized or join a church, and the "follow" button has been clicked. After that, they just wait for inspiring messages to be delivered. Whether they listen or not, respond or not, change or not, they are still Christ followers. It's easy.
That's not the way it's supposed to be. At least not according to what Jesus taught and the early disciples demonstrated.
Matthew 4:19-20: "'Come, follow me,' Jesus said, 'and I will make you fishers of men.' At once they left their nets and followed him."
Luke 14:27, 33: "And anyone who does not carry his cross and follow me cannot be my disciple … In the same way, any of you who does not give up everything he has cannot be my disciple."
Of course, diagnosing the problem is easy; solving it is tough.
If we're going get our churches back on mission, we have to get them actively following Jesus.
They can't just sit around and wait for the next great teaching about Jesus. They need to be actively applying Jesus' teachings. As James wrote, "Anyone, then, who knows the good he ought to do and doesn't do it, sins."
We all face this problem. We sure do at NorthRidge, the church I'm privileged to pastor. By God's grace, we have seen thousands of people click the button to "follow" Jesus. But we haven't done a great job of moving the majority of them beyond waiting for the next inspiring talk or service.
To be honest, I think we've unwittingly created this dependency. Our services are inspiring and energizing. All a person has to do is be there.
But this isn't what makes a true or fully devoted Christ follower. That requires activity—receiving something, leaving something, giving up something, doing something. It demands responsibility and accountability.
We want people to know there's nothing they can do to earn a relationship with God. That requires passively receiving grace by faith. But we don't want to leave it there. God doesn't. We also want people to know that, when grace is genuinely received, it leads to good works. This is the clear, two-sided message of Ephesians 2:8-10.
In recent days, we've been seeking to significantly change the way we teach and our strategy for making disciples. While we certainly want the people of NorthRidge to faithfully gather, it's not enough. We want the gathering to "stir them up to love and good works." We are now refusing to be satisfied with passive Christ followers. We are now aggressively investing ourselves in creating a ministry that, in love, embraces and encourages the tension that comes with challenging people to get active in their faith—to keep growing into true disciples.
Our responsibility as leaders is to encourage, expect and then provide opportunities for equiping them to genuinely follow Christ. They shouldn't just passively listen to others teach the Bible. They should actively study it for themselves. They shouldn't just passively let the church tell people about Jesus. They should actively be telling people about Jesus. They shouldn't just passively hope the church is helping the poor and hurting. They should be actively helping the poor and hurting. They shouldn't just passively watch as the church seeks to make disciples. They should be actively seeking to make disciples. After all, they are the church.
Of course, we need to remember that, even if we fulfill our responsibility, there will always be those who follow passively. During Jesus' earthly ministry, the vast majority of people who followed him turned out to be passive followers. Though we don't like it, we're sure the same will be true of our ministry. But we've decided to do everything we can to make sure it's because of their choice, not our neglect.