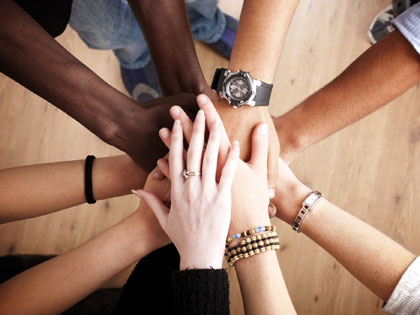 Why not host a giving competition during the slow summer months? Here's what worked for one church.
At Westminster Presbyterian Church, Survivor– and Hunger Games-themed competitions have proved surprisingly successful in inspiring congregants to get involved in outreach efforts, including collecting food donations for the community.
Each summer since 2009, Pastor Karen Dumey has divided the 65-member congregation in Cape Girardeau, Mo., up into two teams.
The first year, the competition theme was based off of Survivor, the popular television reality game show in which contestants isolated in the wilderness compete for cash and other prizes. Last summer, the competition was based off The Hunger Games–a blockbuster film about a televised fight to the death in a dystopian future.
In this church contest, team members earn points by bringing food and medical items to donate to the local food pantry, inviting a guest to church, volunteering at the church or community organizations and even attending church on Sunday mornings.
"Every year we've had an increasing amount of food donated to the food pantry," says Jeanie Dale, a 42-year-old child therapist and church member. "So it's really neat to see and it's really inspiring."
For such a small church, Dumey says she was impressed that members donated more than 1,100 cans of food and other items last summer.
"The congregation just loves competing against each other," Dumey says. "The payoff is at the end of the summer the losing team has to provide lunch to the winning team."
During the slow summer months when many members go on vacation, Dumey says the competition helps keep attendance up too.
"A good, friendly competition can bring out some really good things in folks," Sale says. "It's good-spirited, it's good fun and when it gets down to the wire each week and they announce the scores, you can see people bringing in two or three crates of canned goods they bought at a local store–just trying to put their team over the top." —Troy Anderson