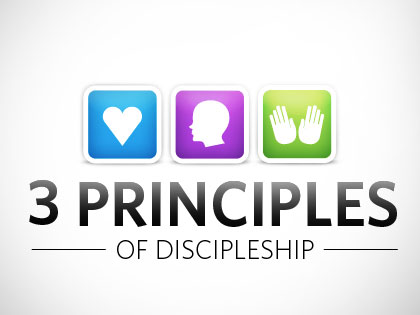 Brad Powell: "There is no 'best model' for making disciples. Don't believe anyone who tells you otherwise."
Q: As someone who has pastored churches of every size, what's the best model for discipleship you've discovered?
I have been on a quest to discover a "best model" for the 30 years I've been in pastoral ministry. But I haven't found one—or anything close to one.
A ton of people make claims to the best model for making disciples. I've read articles, attended seminars and met with consultants all pushing "the best way." It sells because there is a huge demand for a magic formula, a perfect method to guarantee success in this, our most important mission.
Of course, there's nothing wrong with seeking to learn from others—just so we remember that simply copying them doesn't work. We need to understand the principles behind their success, and then do the hard work of creating new ways to apply those principles in our unique settings.
People are unique creations of God, made in His image but now marred by sin. They cannot be mass-produced like automobiles or smartphones. Every experienced parent knows this. What works perfectly in raising one child in the "training and instruction of the Lord" unleashes the devil in the next. It takes very different "models" of child rearing to successfully fulfill the God-given mission of parenting. The same is true with the God-given mission of "making disciples." One size does not fit all.
Even Jesus did not give us a formula, but He revealed the right principles and patterns for discipleship. Make sure you are, in some way, addressing each of these three vital areas.
The Heart
The condition of a person's heart determines the condition of their life. Proverbs 4:23 says, "Above all else, guard your heart, for everything you do flows from it." And as Jeremiah expressed it: "You will seek me and find me when you seek me with all your heart" (29:13).
Negative Example: The Pharisees and Teachers of the Law. "These people honor Me with their lips, but their hearts are far from Me. … For out of the heart come evil thoughts—murder, adultery, sexual immorality, theft, false testimony, slander. These are what defile a person" (Matt. 15:8, 19-20).
Positive Example: David. "After removing Saul, He made David their king. God testified concerning him: 'I have found David son of Jesse, a man after My own heart; he will do everything I want him to do'" (Acts 13:22).
If we're going to genuinely disciple people, we need to create an environment where God can get a hold of and continue to work on their hearts.
The Head
The way people think determines how they see, what they want, and how they respond. Ephesians explains, "You were taught, with regard to your former way of life, to put off your old self, which is being corrupted by its deceitful desires; to be made new in the attitude of your minds; and to put on the new self, created to be like God in true righteousness and holiness" (4:22-24).
The good news is that a person's way of thinking can change. It happened to Saul of Tarsus as he was transformed into Paul. It has to happen, by whatever method, in the lives of the people we're seeking to disciple.
We have to influence the way people think by exposing them to God's truth, people and work.

"Faith comes from hearing the message, and the message is heard through the word of Christ" (Rom. 10:17).
"He who walks with the wise grows wise, but a companion of fools suffers harm" (Prov. 13:20).
"Live such good lives among the pagans that, though they accuse you of doing wrong, they may see your good deeds and glorify God on the day He visits us" (1 Peter 2:12).
How you do this, in your setting and with your gifts, will look very different than how I do it. But it needs to be done.

The Hands
What people do and don't do significantly influences their spiritual journey. Jesus told His disciples, "Now that you know these things, you will be blessed if you do them" (John 13:17).
Jesus invested in His disciples and then sent them out. In fact, sending them out was a big part of how Jesus taught them. Sadly, in most churches today, people are being "sat" rather than "sent." 
There is no "best model" for making disciples. But there are absolute and essential principles. Jesus modeled them. He didn't do it the same way with everyone. And it didn't work perfectly. There were many who came in the front door of Jesus' ministry and just as quickly left through the back door. But it did work. Though they had a rough start, the first disciples changed the world.
The same needs to happen in our churches. So we must make sure, however we choose to do it, to invest in and create environments that can ultimately change people's hearts, heads and hands. Are you?