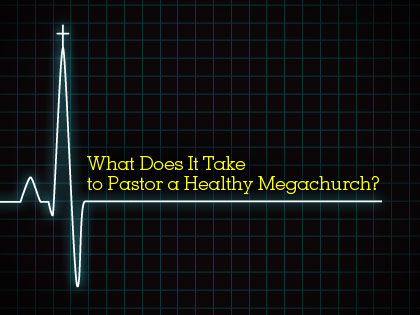 "Instead of trying to please a congregation of 9,000 folks—I realized my greatest need was to spend time with the Lord."
What defines a megachurch?  I know many are defined by the notoriety of the pastor or the magnitude of their programs. In the case of our church, however, I truly believe our megachurch status is simply a mega-work of God. As senior pastor, there have been many times where I have been absent from the pulpit for a month or more due to ongoing surgeries from health issues. Though it can be rather humbling, I have found that our congregation thrives whether I am at the pulpit or not! But this is as it should be—a body of believers who allow God to do his work through them and not rely completely on the senior pastor!
So what does it take to pastor a healthy megachurch?
1. It takes humility before God.
A leader should never forget that he is a servant of God and a servant of God's people. It is difficult not to become "legends in our own mind," isn't it—especially when you are the senior pastor of a large flock of people? However, Paul the Apostle cautioned us against that very thing when he warned us, "not to think of ourselves more highly than we should."
This can be difficult to remember especially when God begins to grow and prosper the church you are leading. But Jesus was the greatest leader of all time and he humbled himself and took the position of a servant. He never considered himself too good to hang out with common people, or to touch a leper, or to even wash the disciples' feet. Pastors and leaders should demonstrate this same attribute of Christ today. Pastors are not celebrities but servants of God. And God uses humble servants who are willing to sacrifice and serve, so he can get the glory!
2. It takes a hunger for God.
It's that daily devotional time that is essential in all believers' lives—especially pastors. Perspective and purpose comes from that intimate love relationship with Christ. How can we encourage people in devotions if we aren't hungry ourselves? How can we demonstrate the power of God if we aren't plugged in to that outlet?
Jesus, said to his disciples, "It's time to come apart before you begin to fall apart." How many senior pastors and church leaders heed this warning? We get caught up in everything except spending time with him devotionally. To that point, I was reading in my devotion time that Jesus wept over Jerusalem. I knew why he was weeping—he saw the city of God destroyed. But as I meditated on this passage, God's Spirit drove a profound point deep into my heart. So much so it would change my leadership forever. You see, Christ, wept over the sinfulness of those leaders in the temple. If his leaders were right in their relationship with God, then his people would be rejoicing. But, if his leaders were indifferent or wrong in their relationship with the Lord, the people would be corrupt.
God set me free that day. Instead of trying to please a congregation of 9,000 folks—meeting all their needs—I realized my greatest need was to spend time with the Lord (Acts 6:4). Then I could give the church the outflow of what he gave me. Therefore, I give faithfully what I receive, pouring my heart into 80 church staff members and a 9,000 people congregation.
I expect the same from the church staff. We have daily corporate devotion time. We meet every morning, and also have a time of prayer in the afternoon before we go home. It was hard in the beginning, because the staff felt they couldn't get anything done. I wanted them to understand the spiritual importance of placing God first in their lives and work.  Now they have seen first-hand that they are able to give out, because they have taken in.
3. It takes laborers with hearts after God.
Paul the Apostle said in 2 Corinthians 5:14 that the love of Christ compels us. The greatest gift I can bestow upon my congregation is a godly staff, deacons, board of directors who are compelled to serve faithfully because of their love for Christ.
A good staff has nothing to do with charisma, class or culture. Our staff is made up of a wide range of different cultures—Chinese, Egyptian, Filipino, Italian, Japanese, Mexican, Samoan, Caucasian, Chilean and Russian. It's not always easy to break down cultural barriers, but I have preached Christ, not culture. Christ broke all cultural barriers in his own ministry and in the same way has broken the barriers that would keep us divided at our church. Our staff has a common vision and a common purpose and I have found that each brings to the table their own individual talents and skills to fulfill the greater purpose of serving God's people.
Make sure you surround yourself with Spirit-filled co-laborers who attend Bible studies faithfully, who are dedicated and involved, and who are tithing to the fellowship faithfully. There's nothing more precious than having the right spiritual men and women around you—those you can listen to, and trust to hold you accountable. There is a danger in choosing support staff based on friendships or solely on professional qualifications. Choose those who have the mind of Christ, demonstrate the heart of God and have passion for God's people!
4. Last and certainly not least, it takes honoring the people of God.
Always remember that God has entrusted you with his people in your congregation. They are a priority. It's not about writing a new book, or having prestigious speaking engagements, or participating in exciting mission endeavors that come knocking, BUT, it's about the people God has placed right before you. Be careful not to forsake your calling to be a good shepherd over these people. The apostle Peter said it best, "Feed the flock of God which is among you, taking the oversight thereof, not by constraint, but willingly; not for filthy lucre, but of a ready mind; neither as being lords over God's heritage, but being ensamples to the flock. And when the chief Shepherd shall appear, ye shall receive a crown of glory that fadeth not away" (1 Peter 5:2-5 KJV).