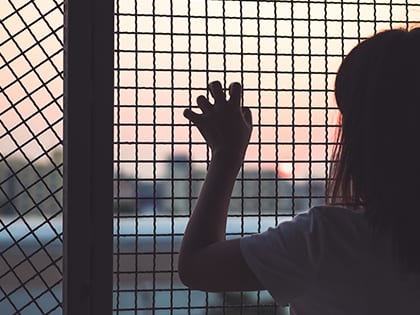 Our church partnered with International Justice Mission and began to see ourselves as sent to our own community too.
I long to see the kingdom come in New York City as it is in heaven. As a pastor or church leader you probably share my desire for the particular place you live and work and play.
The real transformation of any place comes down to the people who live there. We don't have to guess whether or not God is at work in a place. The Scriptures, from beginning to end, paint the portrait of a God who is active in his purpose for and mission in the world. We see it in the fruit of his people.
Michael Frost and Alan Hirsch in The Shaping of Things to Come put it this way, "[Mission] is the very heartbeat and work of God. It is in the very being of God that the basis for the missionary enterprise is found."
Transformation comes down to people partnering with God on mission in a particular place. Do people see themselves as the sent people of God and will they join him in the renewal of all things? According to Frost and Hirsch, "God is a sending God, with a desire to see humankind and creation reconciled, redeemed and healed."
Jesus speaks passionately to us on this point.
After the resurrection Jesus commissioned his followers to live sent lives and empowered them with the Holy Spirit to continue the work that he started. "Again Jesus said, 'Peace be with you! As the Father has sent me, I am sending you.' And with that he breathed on them and said, 'Receive the Holy Spirit'" (John 20:21).
One of the greatest challenges I face as a pastor today is discipling Jesus-followers to live as the sent people of God in the spaces where they are already doing life. To see themselves as the commissioned, empowered, sent people of God and to see mission as something that happens wherever they happen to be.
Our challenge is not informational, but inspirational. Finding people who are passionately living out Jesus-commissioned and Spirit-empowered lives among a people to whom they have been called can be difficult.
I had known for some time about International Justice Mission (IJM) and the work they do toward ending slavery in all its forms all over the world, but I became truly inspired when I had the opportunity in 2016 to visit the IJM headquarters in Washington, D.C., and spend an afternoon with members of their team.
Afterwards, I couldn't wait for our church to get to know IJM.
We decided that the best way to make the introduction was to participate in Freedom Sunday. Last September we were honored to have Richard Lee, Director of Church Mobilization, come to New York and speak to our community about IJM. Richard shared about new casework that had begun in the Philippines combatting cybersex trafficking, a type of sex trafficking that was unimaginable before the digital age.
"Cybersex trafficking is the live-streaming sexual exploitation of children viewed over the internet," said Lee. He told the powerful story of Cassie, a young girl who had recently been rescued through the efforts of the IJM field office in Cebu, Philippines.
Our people were inspired, so many in our church became IJM Freedom Partners (monthly donors) that Sunday, and for the past year we have been contributing to the work IJM is doing to see the kingdom come in Cebu as it is in heaven.
But something else also happened that Sunday. Hearing and seeing and feeling the work that IJM is doing to join God in the renewal of a city on the other side of the planet inspired many of our people to consider what it would look like for them to join God in that work in our own city.
Our church is participating in Freedom Sunday again this September 23rd. We're looking forward to hearing an update on all that God has done in the past year through our partnership with IJM Philippines, and we can't wait to see how our people are inspired again to live as the sent people of God right here.
Dedicating time and space each year in the rhythm of our community opens the eyes of busy New Yorkers to tangible ways of participating in the kingdom in other places, while inspiring them to live as the sent people of God right here in this place.
We are grateful to IJM for the work they do and for helping this church in New York live sent.
On earth as it is in heaven.
Derek Worthington is parish pastor at Trinity Grace Church on the Upper West Side of Manhattan.
International Justice Mission is the largest international anti-slavery organization in the world, with a plan to eliminate the slave trade everywhere.