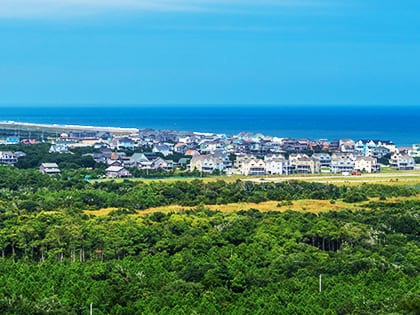 Jim Tomberlin of MultiSite Solutions interviews Donnie Griggs of One Harbor Church in Morehead City, North Carolina, on the challenges and opportunities of multisite church planting in small town America.
Is it possible to plant churches and multisite in small towns and difficult places?
It's a question I get asked all the time. I thought I would let Donnie Griggs respond to that question in this interview below.
Donnie is the founding pastor of One Harbor Church in Morehead City where he grew up in the Outer Banks of North Carolina. One Harbor began in 2009 and has grown to over 1,500 attendees across three locations with the fourth campus launching soon. One Harbor is one of the most exciting churches I have consulted.
Donnie, describe the Outer Banks of North Carolina.
Our region is comprised of many small towns and rural areas ranging in population from 200 to 10,000. Morehead City, where we started, has around 9,000 people. There are a few larger towns in the region that are between 50,000 and 70,000, which is most due to the large military population. Our economy is fueled by the military base, tourism, seafood, construction, agriculture, real estate, etc. Where we live is breathtakingly beautiful, but just as broken by substance abuse and poverty.
What factors caused One Harbor to consider multisite?
We decided to pursue multisite as a strategy for church planting when it became apparent that we were drawing large numbers of people from adjacent communities. Over time, we came to believe God wanted us to impact our region, not just a couple of towns. Thus far, each site has been launched into community from which people were already coming to One Harbor. The goal for our church was to become more incarnational by placing smaller churches in various communities, rather than having one single church attempt to serve those communities from a distance.
What are the challenges of multisiting in a small-town community?
While there are many benefits to multisite, perhaps the greatest challenge is managing the complexity of a system designed to support multiple sites. Other challenges revolve around finding suitable buildings, trying to explain multisite in a culture where most folks have never heard of it and finding the right leaders for these small towns that can be highly localized and resistant of outsiders.
What staff, ministries and team size do you launch with?
Each site launches with a full-time site lead pastor, a part-time site executive pastor, a part-time music and media director, a part-time hospitality director and a part-time kids ministry director. All other ministries depend on the capacity and needs of the site.
What is the cost to launch a campus? How long do they take to become financially sustainable?
The start-up costs vary depending on the facility, but have averaged around $70k to $90k per site. Each site we launch has made the church more profitable, which has directly affected our ability to launch future sites.
We launched each congregation with a very strong core team, sending our best from the Morehead City campus in both cases. In fact, the question for us was less about how soon the site would be self-sustaining, and more about how long it would take the sending congregation to recover. In both cases, this happened within months.
Our central support is on the heavy side, and the Morehead City congregation pays for more than its fair share. That's what has enabled us to get sites up and running so quickly.
<h2How are sermons delivered across One Harbor campuses?
We do team teaching across our sites, with a mix of live, in person and video delivery methods. We intentionally coach and train up new preachers. For in-person, live sermons we all preach the same text or topic each week and video sites are a week behind.
How has the community responded to a multisite church?
Generally, the response has been favorable. Because multisite is less familiar in the rural church landscape, there are some who have been negative or reluctant to accept it, but they have been the minority.
Some people thought it was a church split, while others thought it was imperialism. We communicate a lot about the strength of this model and the unity between the sites.
Donnie Griggs is the founder and primary preaching pastor at One Harbor Church. He is the author of Small Town Jesus in which he shares his heart and learnings for planting churches in small towns and out-of-the-way places.
Jim Tomberlin is the founder and CEO of MultiSite Solutions.