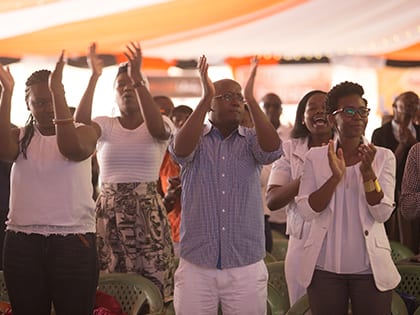 A Leadership Development Strategy in Kenya Has Birthed 17 Campuses in 13 Years
Muriithi Wanjau came to faith in Jesus Christ as a college student, "but I was not walking with the Lord in a very committed way," he explains. "I went to church on Sunday, but that was about it." Instead, his heart was into playing rugby.
Today he leads Mavuno Church in Nairobi, Kenya. (Mavuno is Swahili for harvest.) Its mission is to turn ordinary people into fearless, Jesus-centered influencers of society. "We didn't just want to be a safe church," he says, "but one so dangerous that if the government ever shut us down, our neighbors would protest, 'Please keep that church open because they're so useful.'"
Since 2005, when Wanjau took leadership, Mavuno has grown to eight locations in Kenya and nine internationally—with more to come. "We're part of a vision to plant culture-defining churches in the capital cities of Africa," he says.
Wanjau is also the author of Mizizi: Plugging Into Your God-Purpose, which has been translated into six languages and is used in churches across the world, including over 400 churches in North America.
The Importance of a Coach
What happened to cause Wanjau to shift from a lukewarm faith to such passion? One influence was friends. "I made some close Christian friends who influenced me to walk more closely with Christ and to stand up for Christ in my sports life," he says. Another inspiration was a pastor who took Wanjau under his wing, regularly invited him into his home and gave Wanjau ministry opportunities.
When Wanjau graduated from college, that pastor—Oscar Muriu of Nairobi Chapel—invited Wanjau and his then-girlfriend (now wife), Carol, to each give a year to serve as interns in Nairobi Chapel. Saying yes changed the trajectory of their approach to ministry. "Oscar has had the most impact on my life except my parents," Wanjau says.
How so? "He threw us into everything we could imagine. He didn't have any limits for us. He challenged us to try things we didn't think we could do," says Wanjau. "He always believed more in us than we believed in ourselves.
"I remember one of my first times speaking—and hating every minute—yet Oscar found me and said, 'You're doing a great job, and I want you to do it again next week.'"
At the end of the internship, Wanjau agreed to stay with the church, and Muriu immediately gave him a lot of responsibility. Sometimes Wanjau didn't master the challenge, like the time he proposed a big outreach event and rented a stadium for an out-of-country music group.
"It flopped," Wanjau says. "I remember coming to Oscar saying, 'I'm so sorry we failed, and I don't have a way to pay the church back for the money we lost.'"
Muriu didn't shame him. "This was the best education because you've learned what does and doesn't work," he told Wanjau.
Wanjau even led the church and elders during a season when Muriu was on sabbatical. When he came back, Muriu praised Wanjau, giving the young man the confidence to be the senior leader at Mavuno.
Equipping New Leaders
Years earlier, when Muriu was a young seminary student, he didn't have the best mentoring experience. He had also done an internship, but initially the church didn't really know what to do with him. He decided that if he could ever sponsor interns in a church that he led, he'd give them everything he wished he had received.
Soon enough, he decided that mentoring interns was not an if but a must. The book Hero Maker recounts Muriu's story: "'When I was a young, rookie, inexperienced pastor, I was reading Psalm 71:18 one day, and I was deeply struck that David's prayer was to declare God's might to the next generation.' Muriu quickly reasoned, 'If I'm going to be true to the heart of David, then I need to invest myself in the next generation, because they will continue to lead after I'm gone.'"
It was then that he made the decision to always pour his life into younger people for the sake of the mission.
At another point, it began to dawn on Muriu that there was far more that God wanted him to do than he could do himself. So, he led the congregation in a gutsy, hero-making decision. In one Sunday, Nairobi Chapel went from being one very large church to being one church in multiple locations, and Muriu turned over many of the church's people and resources to four young pastors—one of them is today known as Mavuno Church. Muriu then gave himself to mentoring the pastors who led those new churches.
Repeating the Cycle
Wanjau is following that model, pouring himself into interns and other leaders he's developing. His basic framework is to discern how to take someone from being an ordinary person to a leader who multiplies.
This breaks into three steps. The first is to show yourself to be a leader in your current context. It includes developing self-awareness of areas you need to grow in. The next step is to become a leader who leads leaders. The third step is to lead leaders who are leading other leaders.
"Today I'm doing everything Oscar did for Carol and me," Wanjau says. "I throw our leaders into the deep end of ministry. We let them lead at very high levels. We give them our credibility. Carol and I invite them into our home. My leadership role is to give them a context where their gifts really bloom.
"When Oscar threw me into the deep end of ministry—and forced me to swim—he kept saying, 'You'll be greater than I am. You'll do far greater things, as John 14:12 promises,'" says Wanjau. "So now I try to do that with others."
MAVUNO CHURCH
Nairobi, Kenya
Senior Pastor: Muriithi Wanjau
Website: MavunoChurch.org
Founded: 2005
Attendance: 5,000 across 17 campuses (8 in Kenya, 9 internationally)
Warren Bird, an Outreach magazine contributing editor, is research director for Leadership Network and author or co-author of nearly 30 books for church leaders. Bird oversees Leadership Network's list of global megachurches at LeadNet.org/world.