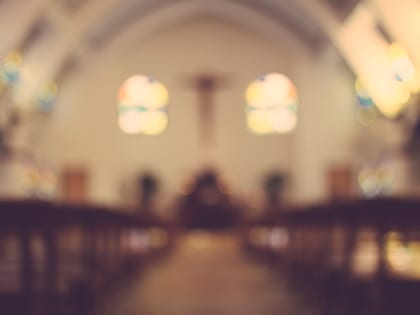 "We pastors hate to go backward. For me, it's a pride thing. But something has to be done. There needs to be a plan."
Going back to a single service: Isn't that going backward? What about the appearance? What will people say and think?
Yes, returning to one service can be seen as going backward. Most likely, a few will even say so. Nevertheless, it not only may be the right thing to do, it most likely will be the best thing to do for some. It all depends on the presentation and the reasoning. You grew your way into multiple services; now you may need to grow your way through a single service.
Let's create a scenario for illustration: You have a 500-seat auditorium. You maxed it out a few years ago, wisely went to multiple services, and maybe even added a Saturday night service. This eliminated both a facility and parking problem and gave people more options.
However, over the past few years, for various reasons, the attendance has substantially decreased. Now, you have two or three services in an auditorium that is less than partially filled. You've spread out the seating and even removed a few rows. Saturday night you rope off the side sections.
What are you to do? There are as many, if not more, empty seats than filled. It looks awful.
I know, and I understand … we pastors hate to go backward. For me, it's a pride thing. But something has to be done. There needs to be a plan.
First, let's be honest and evaluate the positives and negatives of returning to a single Sunday morning service.
The positives of multiple services in a best-case scenario:
more parking
more options
more ministry opportunities
more room for growth
The negatives:
stretching staff and volunteers
empty seats
cost of operating the facility
the family not sitting at the same table*
We know the benefits. We have experienced them, but now the room is "embarrassingly" empty. If going "back" to a single Sunday morning service is the wise thing to do, the questions are, when and how?
When?
Here are some things to consider in answering the question of when: If the total attendance (not counting the duplicates) is less than 60 to 65 percent of the total possible auditorium capacity, it's time to return to one service. If you have adequate parking to do so, even more so. I would go as high as 80 percent capacity as long as I had the parking (even considering off-site parking).
But what if the church starts to grow again? Oh, I believe that it will. When the church begins to grow past its capacity, instead of considering multiple services again, you might want to consider multiple venues, on- and off-site via livestreaming. Maybe even rent a theater or local facilities, etc.
Wouldn't it be great to preach to a full house? Wouldn't it be wonderful to have the entire family at the table at one time? How about classes and/or small groups meeting before or after the service? How about being governed by the Holy Spirit instead of the clock?
How?
Making the change will take time and energy. You'll have to sell it. There will be egos to deal with (for me, it is was my own). There will have to be a strategic plan. Here's an illustration that I used.
I would ask, "Did you have Sunday dinners growing up? Weren't they memorable and wonderful times? Does your family eat together?" The answer is, 90 percent of the time, "Yes."
I would then say, "Can you imagine having Sunday dinner, and half the family eats at one time and the other eats at another, when your dining room is large enough for the entire family to eat together? Well, that's what we are doing. We have this wonderful dining room (Sanctuary or auditorium), and the family is eating at different times when we can all dine (worship) together."
Here's the sell:
Don't use the word "backward." Use the word "growth."
Sell it slowly, confidently, confidentially and systemically.
Consider doing a series of messages about "the family of God."
Make it a big day. Give it a name. Maybe have a picnic or similar gathering after.
Consider having classes or small groups before and after the service.
Consider a new time.
Plan on growing. There is strength in unified numbers.
As much planning as there is needed to return to a single service, I believe that even more planning will be required for growth. What do we do when the house is filled?
My wife and I have a large extended family and are fortunate enough to have a sizable home. It is common for us to have 40-plus people for a family dinner. We cannot all sit at the same table. Some sit in the dining room, others in the kitchen and many in the pavilion, and the neat ones in the living room. However, we are all in the house, and it is wonderful. When it is just our immediate family, we eat in the kitchen.
I am not at all opposed to multiple services. That was a great mode for expansion a decade ago, and it remains a good one for many. However, with the available technology for livestreaming, and folks accustomed to watching screens instead of people, multisite venues, in house and out, are excellent options for growth.
Sometimes, the best way to get where we're going is by turning around or taking a detour.
Put it to prayer, asking, "Lord, what would you have me to do?"
Tony Foglio is a pastor, church planter, businessman and author of Discover the Bible: Journey Through the Bible As It Was Meant to Be Read (Thomas Nelson, 2004). For more information, go to DiscovertheBible.com.