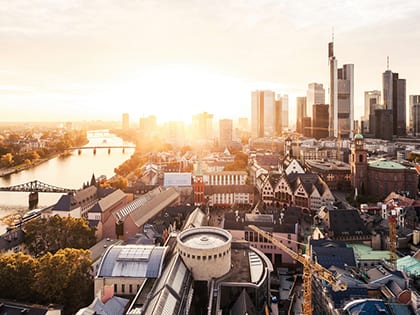 "The God of the nations is writing his story. In this time and age, he is sending all kinds of people to all kinds of places."
In 2004, Dr. George Yancey and I launched the Mosaix Global Network. At the time, it wasn't even a network—let alone a global one. Nevertheless, we added "global" to the name believing that if God were leading diverse people to walk, work and worship together as one in local churches throughout the United States, surely he would be doing so around the world, as well.
Throughout the years, I have been blessed to network and to partner with leaders of other multiethnic church movements around the globe: Mathew Kuruvilla, senior pastor at Parkside Church in Sydney, Australia; Terry Hoggard, founder of Fellowship of European International Churches; and Theo Visser, director of Intercultural Church Plants (ICP) in Europe.
Recently, I asked Theo to provide an update on his team's work in Europe. Here's what he had to say.
In Europe, we have seen an amazing work of God's Spirit ever since the start of the new millennium. In many places, new movements are arising in which people from specific countries are setting up their own intercultural church-planting networks. And because of these efforts, a broader European network of intercultural churches is taking shape. This, in turn, is attracting attention and increasing interest of other pastors.
In the Netherlands, for example, more than 30 intercultural churches have joined ICP. These churches have reflected on a variety of subjects, including the implications of intercultural discipleship counseling. They have given much thought to coaching other intercultural church planters, developing a solid support system in the process.
In Germany, too, God is blessing in and through all kinds of new "mono-multicultural churches," as they call them. The term implies that German nationals in local churches are intentionally becoming one with people from other countries in order to effectively reach the many cultures that today comprise the nation. Over the past few years, since Germany has been flooded with refugees, this work is significant and relevant. Already in Frankfurt, 11 new churches of this kind have been planted.
The German network is called MissionMosaik. The plan is to build similar networks in 10 European countries. Through these networks, leaders will take responsibility for their own countries and for the exchange of collective experience to help others grow in the knowledge and skills necessary to plant and lead intercultural churches in the future.
To help, a tool is being developed to train intercultural church planters and their teams in their own countries and contexts. This training will provide them with the opportunity to reproduce and start new training for others, on their own, at a later time. Through these "learning communities," ICP is continually looking for ways to reproduce disciples and build communities through intercultural churches and networks, in order to become a movement of God's Spirit where Jesus is exalted among the nations on Earth as in heaven (Rev. 7:9).
Through all such efforts, culturally diverse people in Europe today are finding their way to Jesus and to one another. In the process, they are becoming a "multicolored church," one in which the manifold wisdom of God is being displayed to the world (Eph. 3:10). We are forging opportunities to stimulate and encourage one another across borders and to see this beautiful, new movement of God's Spirit grow and develop.
Thus, the God of the nations is writing his story. In this time and age, he is sending all kinds of people to all kinds of places. And in this way—by reaching the nations and helping them become disciples in and through intercultural churches—he is ushering in a whole new chapter whereby the kingdoms of this world are becoming the kingdom of our Lord and Savior, Jesus Christ.
To learn more about partnering with emerging, intercultural church-planting networks in Europe, contact [email protected].
Mark DeYmaz, an Outreach magazine contributing editor, is the directional leader of Mosaic Church of Central Arkansas and co-founder and president of Mosaix Global Network.