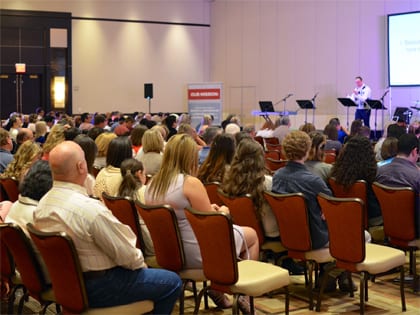 Liberate Church's unusual venue is allowing it to reach people who might not otherwise set foot in church.
From the outside, Aliante Casino and Hotel looks like so many others that are scattered around the Las Vegas Valley. It's not on Las Vegas Strip with all the other famous ones; it's located about a 30-minute drive north. Outside the casino, there is a giant sign that advertises the buffet and some kind of new gaming experience. Every Sunday morning, the parking lot is filled with cars. But not everyone is there to play the slots.
Imagine you cross the lot and head for the nearest entrance—and you're surprised to find a young man with a T-shirt that reads "Liberate Church." He greets you with a smile and directs to the lobby, where to your left is the front desk, and to your right is a hallway that leads to the ballroom. You see more signs for Liberate Church.
As you head to the back, you see a welcome desk and signs that direct you to where the children meet. The church worship service is found through the double doors ahead. There's a stage with a video projector, lighting and a sound system. By the time the service starts, you've forgotten you're in a gambling establishment—you never passed a single slot machine.
I sat down with Liberate Church's lead pastor and church planter, Brett Capaci, to find out how the church began and how his team found themselves meeting in a such an unusual venue. Brett has been in ministry for nearly three decades, serving previously at a church in Memphis, Tennessee. Nearly three years ago, he answered the call to the desert and uprooted his wife Cindy and their three daughters.
Why Las Vegas?
"We got tired of doing church for church people," Brett says regarding the call that led him the Las Vegas. He had planted a church in 1991 and felt that it was time to get back to his roots.
He called a friend, Mark Neal, who was serving at a church in Las Vegas, to talk with him about what he was sensing. "You've got to come to Vegas!" was Neal's response. That didn't convince Brett, but it starting the wheels turning. He began to do research and learned that the city is very unchurched.
Ultimately, it was a trip to Las Vegas that convinced him. Brett says that in Memphis you find churches everywhere, but in Vegas, they were fewer and farther between. From his previous church, he says, you could throw a baseball and hit the side of the next church. While he acknowledges that there are churches in Las Vegas, he saw very few on that scouting trip.
Brett got connected with a church-planting organization and a sending church, Shadow Hills. He began to build a team and find some support for the new plant. He focused on a specific area of the Valley where they would be located.
On the northern edge of this fast-growing city is a newer housing development called Aliante. Brett noticed there were lots of families moving in and stores opening up, but there were few churches.
Open Doors
So, how did they end up meeting in a casino? According to Brett, it was all part of a God-led process.
Brett began to call local movie theater chains. His first choice was the only theater in the Aliante area, a Regal theater inside the same casino. He was surprised when he was told of a local ordinance indicating that a movie house that is under the same roof as a casino cannot rent to a house of worship. That seemed like a dead end—until the person on the other end of the phone suggested that he call the casino itself because "they have a nice ballroom and convention space."
Brett, not one to be easily deterred, called the casino and was directed to a woman who said, "Liberate Church? I've heard of that." Brett thought she might be confused because they were only in the planning stages and very few people had been told even about the name of the plant. "I'm a member of Shadow Hills, and our pastor has been talking about a new church called Liberate," she said.
Brett was stunned. "Here's a person in a casino that has a heart for church planting, because she goes to our sending church," he recalls thinking.
The arrangements were made for their initial launch. The casino would provide the rooms, chairs and even coffee and tea service. In some cases, it's an ideal situation because the resort employees do all the setup, but the cost is somewhat higher than a movie theater alone or meeting at a local school.
The location also fits in well with the Las Vegas environment.
"Casinos are where you go to do a lot of things," Brett says. "It's where you go to eat, go to the movies or go bowling"
Reaching Out
The church officially began on Easter Sunday 2015 and currently averages 175 to 185 in weekly attendance. Brett says that the congregation is diverse but largely made up of young families. But because they are meeting in such a unique place, they are reaching people who might not normally step foot inside a traditional church building.
One example is a teenager named Devon who was invited to Liberate Church by some friends from high school. "He started going to our church, and, in his mind, he was an atheist," Brett says.
Devon continued to come because of his friend and because he really liked the live music. Then, the gospel began to take root.
"About four or five months in, Devon got saved. About a month later, he got baptized," Brett says. "He now plays in the worship band, and last week we let him lead a worship song."
According to Brett, Devon, who is planning to attend Arizona Christian University in the fall, is just one of the many stories of life change that the church has seen.
As with most church plants, the location where Liberate started is not where they intend to stay. Brett says they have formed a committee and are looking at possible new locations right now.
But a permanent location will not keep the church from its original mission. Brett says they intend to grow their staff and save money in order to make a "fiscally responsibly move into a permanent facility."
Brett says that the church will "continue to reach people and be a church that plants churches." Since their inception, they have supported other church plants in Tucson, Arizona, and Denver, and they are currently working with a pastor in Montreal, Canada.
To learn more about Liberate Church, go to LiberateChurch.com.
Jeff Chaves is a freelance writer and pastor. He has been married to Peggy for more than 32 years, and they have four children. He is the pastor of Northpointe Community Church in Las Vegas, Nevada.