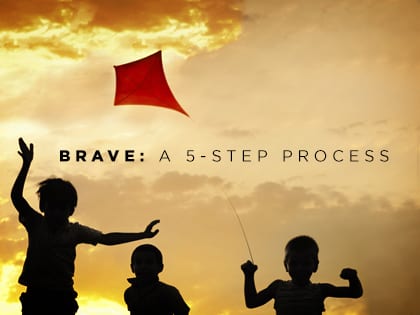 "Take the next step. Make this a conversation in your next staff or volunteer meeting."
"Do you smell perfume?"
The perfume we smelled was actually an affirmation to us. We knew who was holding our infant daughter in the nursery. We didn't feel uncomfortable at all.
You see, our daughter has trisomy 21—otherwise known as Down syndrome. We were nervous parents because when she was very young, our daughter had feeding issues and had to eat through a feeding tube. This was extremely stressful. We had a hard time trusting anybody to take care of our daughter because of this. Often, our 45 minutes in the church service weren't relaxing because our minds were on our infant and her needs.
When we would pick her up from this nursery, she would often have a lavender fragrance that would help us to relax and know for certain she was cared for.
Many churches are not prepared for families who have children with special needs. Often, the topic isn't discussed in church-staff meetings, and Sunday morning children's ministry workers are caught off guard when a new family arrives.
Jennifer and I understand that not all churches are unprepared, and if we visit a church, we call or email ahead of time. Being in pastoral ministry has taught us to think ahead and give the ministry some notice.
However, for the times that we weren't able to call ahead of time, we found ourselves afraid to drop our daughter off. She has been off of the feeding tube since she was two, but she still communicates with some verbal and some sign language.
Now that she is in first grade, she wants to be included. When the children are dismissed from the church service, she wants to run alongside the other students.
It is exciting for us, her parents, to see her go along with the other students, learn Bible stories and on the way home, sing us songs she learned in children's church. This joy is something we want to experience in as many ministry settings as possible.
We are going to use the word "BRAVE" to unfold some ideas to help prepare your children's ministry and start the conversation. If you are uncomfortable with children or adults with special needs, let's take the fear out of it. Instead of allowing the phrase "special needs" to overwhelm you, change the phrase—learn to think of it as "Specific Needs."
An example I use: If one of your usual students showed up with a cast on their foot or they had a sprained ankle, the children's ministry team would quickly know how to help. This is a specific need.
Now, the children with specific needs like autism, Down syndrome, attention deficit disorder (ADD), attention deficit hyperactivity disorder (ADHD), deafness, blindness, allergies and many others—it would be unrealistic to say all churches must be ready for every specific need. You can't be ready for everything, but you can learn how to build your team to have a flexible mindset so when those families picks their child up from your children's ministry, they will have a fragrance of the gospel upon them.
BRAVE
Believe
Responsive
Accomodating
Value
Empower
Believe
Believe in God's calling on your life to serve. Believe that the ministry you share with these families is going to be received. If you believe this, your confidence in their arrival will be felt.
Responsive
Take time to listen to the concerns of the parent, grandparent, neighbor or whoever brought the child to your ministry. If the information is overwhelming, ask if you can write a few things down. This would be a good time to share with the parent that the ministry team has learned a few phrases in sign language to help.
Some churches give parents the opportunity to stay with their child during their children's ministry time. For some parents this is necessary, but this shouldn't be the go-to response. The main reason is this: It can create the feeling with the parent that their child's needs are a nuisance. Families already carry a lot of weight and struggle with insecurity about their children's specific needs. This might be one of the greatest opportunities build a bridge.
Accommodating
Never assume you know the effort it took for the family to get to church. For families who have a child with a specific need, the struggle to get to church with small children doesn't look that different than other families. There could be diapers, feeding tubes, meltdowns, medications and even treatments.
The parents might look like they were ripped to shreds or hiding behind a smile. But its not the children's ministries job to fix their problems at home. It's our job to share the gospel.
If you take a moment to think about this statement made by Jesus, you learn very quickly he had a heart for children. He states, "For the kingdom of heaven belongs to such as these" (Matt. 19:13-15, Mark 10:13-16, Luke 18:15-17).
In this story, we learn that parents brought their children to Jesus, and the disciples didn't think Jesus should be bothered. In a society that shunned people with issues, how many children with specific needs were brought to him? The passage doesn't say. However, your children's ministry workers can have the same great mindset. They are sharing the gospel with all kinds of children.
Value
By valuing a family who has a child with special needs, you are winning a lifelong friendship. You are winning a friendship with the family and the child.
When you value something, you protect it. You invest in it. You think about it. It can make you emotional. There is nothing wrong with this. If you have a great love for the families of your congregation, then your feelings, actions and speech will reflect that.
Empower
People have expressed to me that they are often so unsure on what to say, how to act, and even how to talk to people who have special needs. One of the most fascinating things to me is when an older person who has Down syndrome interacts with my daughter. It's fascinating because I am seeing an individual who has more in common with her than we can imagine express "unsure" feelings.
These feelings go away. How many people can say they were comfortable with their spouse on their first date? Relationships of every kind take time.
The same is true when it comes to children's ministry—especially when the focus is on families who have children with disabilities. How can you empower the child to feel like they are part of the group and to make friendships? Give the child opportunities to help pass out papers or participate in the game.
We saw the beauty of empowering my daughter while we were on a camping trip with her cousins. They were playing a game in the yard. Our daughter didn't understand the game. What she did understand was the feeling. She participated, laughed and ran back and forth with her cousins.
Take the next step.
Make this a conversation in your next staff or volunteer meeting.
Joe and Jennifer Vinette have been in ministry together for the past 10 years. They have a passion for adolescent and family ministry. Joe serves as the youth pastor at Abounding Grace Christian Church in Rotterdam, New York.