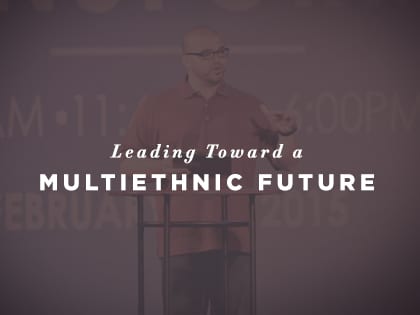 "A movement of economically diverse and multiethnic churches can profoundly shape the trajectory of America's future."
On April 1, Chris Brooks became the CEO of Mosaix Global Network. With more than 17 years of executive leadership experience in the Willow Creek Association, World Vision and, most recently, Stadia, Brooks joins Mosaix at just the right time and brings proven character, competence and capacity to help advance the mission.
Mosaix is a relational network that exists to establish healthy multiethnic and economically diverse churches for the sake of the gospel throughout North America and beyond.
Recently, I asked Brooks to discuss his new position, his hopes and expectations, and the growing demand for practical help, products and services the network provides to pastors, planters, denominations, networks and organizations that seek to reflect the kingdom of God.
What in your background has helped prepare you for this role?
Chris Brooks: I have always had a heart for the local church, and a deep belief that the local church lies at the center of God's strategy for individual and corporate redemption. Having served the local church as a youth pastor and an executive pastor, I understand the why, how and what specifically local churches can do to redeem their communities. Additionally, I am a highly analytical person, which informs my approach to the mission of Mosaix.
You've embraced the job with great enthusiasm.
My life's calling is biblical justice, which, for me, means righting wrongs in the name of Jesus. The long and painful history of racial tensions in America—and lingering effects of subsequent injustice—fall squarely within the crosshairs of my calling. I am a firm believer that a movement of multiethnic and economically diverse churches can profoundly shape the trajectory of America's future, inform this nation's story and help to heal deep divisions within the body of Christ.
Let's talk about millennials. What is it about this generation that makes the establishment of healthy multiethnic churches necessary?
Millennials are hard to pin down; they refuse to be defined by a single motif. Nevertheless, they are a generation with a passion for diversity and justice. In fact, it's the most diverse generation to date in American history (43 percent are not white). The systemic segregation of the local church, however, is antithetical to the diverse environments in which they live and breathe, and the diverse friendships they have formed. They long for a movement that embodies authentic unity and inclusion beyond mere words or good wishes. For them, the credibility of the gospel is validated wherever diverse believers are walking, working and worshipping God together as one in the local church.
Today, Mosaix is advancing "disruption"—a new approach to church planting, growth and development in the 21st century. What is this disruptive model about?
Integration is the opposite of compartmentalization. The disruptive model is an intersection of historically disparate points. In the 21st century, local churches must advance more than good words and theology; they must advance good works along spiritual, social and financial fronts to get beyond rhetoric to results for the glory of God. Thus, the local church must learn to think and to act in an integrated way by weaving three seemingly isolated components together to effectively engage communities in an increasingly diverse and cynical society.
What excites you about working with pastors and local churches through Mosaix?
Mosaix has a proven record and well-documented history of bringing diverse people together, including those from varying denominations and networks—even politically progressive and conservative Christians—to walk, work and worship God as one, across race, class and cultural lines. To date, Mosaix has led this effort collaboratively and courageously; it's the most recognized and trusted brand in this space. Its history includes the leadership of indigenous voices and a relentless passion to ensure that movement is informed by strong theology, the gospel and justice, and that Jesus remains the center of it all. This combination will continue to be our "secret sauce" in the days ahead, as Mosaix continues to respond to growing demand for assistance.
What else would you like to share?
Pastors and ministry leaders pursuing the ministry of reconciliation (2 Corinthians 5:11-21) need strong allies. Whether you're a church planter or a seasoned pastor, your church is in a suburban or an urban context, currently homogenous or beautifully diverse, you are welcome at our table. Come join us!
Mark DeYmaz is the founding pastor of Mosaic Church of Central Arkansas, and co-founder and president of Mosaix Network.