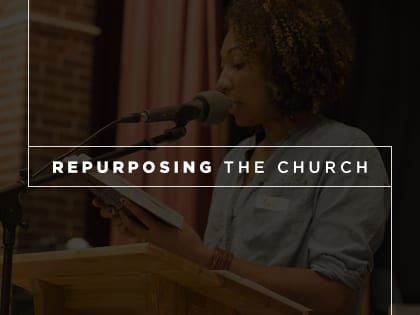 "The American church has proved it can fill the seats, but it has yet to prove that the gospel can transform entire communities."
After serving as an assistant pastor for 11 years in a suburban church, Jason Janz' faith was dry. He recognized a need for change: to do something different, something that would demand a life of dependence, something that would require God to show up.
So in 2008, Jason planted Providence Bible Church with a team of like-minded people in an urban neighborhood of Denver, Colorado. Today, Providence is a multiethnic and economically diverse congregation of 300 people who gather on Sundays and in missional communities throughout the week. In addition, the church has started two nonprofits: Upstream Impact (secular) and CrossPurpose (faith-based), each with a mission to abolish poverty in the neighborhood.
Recently, I asked Jason to describe his decision to leave the more comfortable trajectory of suburban life and ministry in favor of multiethnic urban church planting and community development. Here, in part, is what he shared.
The move disrupted my life. For the first time I became a minority in my surroundings; I needed to wear a headset while attending meetings at the local school so a translation could be provided to me in English.
In those days, a quote by Tim Keller helped disrupt and refine my thinking about the church. He said, "Christians should seek to live in the city, not to use the city to build great churches, but to use the church's resources to seek a great, flourishing city."
Those words, an echo of Jeremiah 29:7, represented a new paradigm for me and resonated deeply. Before, it was just about getting people into the building on Sunday morning to sing songs and hear a sermon. Our neighborhood, however, barely knew we existed.
I wondered what it would look like for the church to play a central role in its neighborhood: to live and work among its people, to reweave the fabric of a frayed society. What if the gospel saved lives not just for eternity but here on Earth, as well? What if the church could have such an impact in its community that crime and poverty were measurably reduced, education and employment responsibly increased?
The apostle Peter called us to "live such good lives among the pagans that, though they accuse you of doing wrong, they may see your good deeds and glorify God on the day he visits us" (1 Peter 2:12).
The American church has proved it can fill the seats, but it has yet to prove that the gospel can transform entire communities. I want to be part of that kind of church, and to have that kind of impact.
If the local church is to redeem its community, pastoral leaders should embrace the following principles and practices.
1. Put to rest the erroneous belief that effectiveness is measured and defined by how many people attend your church on Sunday morning.
While many pastors say it's not about size, in reality, many focus on growing larger. At Providence, we chose to put our money where our mouth is in this regard. For every $1 we spend on facilities, we invest $27 dollars in the community. In addition, our nonprofit budget is four times the size of the church's general budget.
2. Focus more on having a mega-influence than on becoming a megachurch.
Only 6 percent of Protestant churches in the U.S. have an attendance of more than 500 people; 59 percent have less than 100. I believe smaller churches that reflect and focus on a specifically defined community can have a much more systemic impact in their cities than larger, homogeneous churches driven by a Sunday-centric, attractional model of ministry.
3. Pastor the neighborhood, not simply the church.
At Providence, we focus exclusively on nine neighborhoods with 21,000 homes and 60,000 residents. We know the police, the business owners, the pastors and faith leaders, the community activists, the school principals and our political leaders. We are members of community organizations, school boards, online communities, nonprofit boards and neighborhood associations. In such instances, we are the only pastors in the room.
4. Recognize that Sunday sermons are necessary but not sufficient.
Sunday sermons are a small but necessary part of spiritual formation. The sermons with the greatest impact are those made evident in the way you live your life and the good works of the church, collectively, that benefit the community (Matt. 5:9).
5. Reclaim the values of longevity in terms of place and relationships.
According to LifeWay research, the average pastoral tenure is 3.6 years, while the tenure of so-called effective leaders is 11.2 to 21.6 years. We cannot advance measurable community transformation without staying put and going deep.
This article is adapted from Disruption: Repurposing the Church to Redeem the Community (Thomas Nelson, 2017) by Mark DeYmaz.
Mark DeYmaz is the founding pastor of Mosaic Church of Central Arkansas, co-founder and president of Mosaix Network.