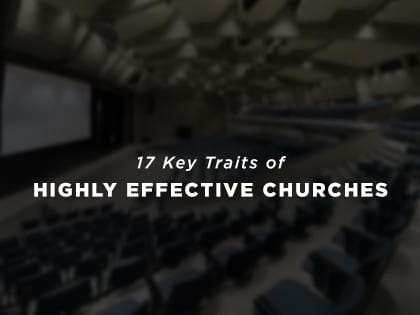 "Here are 17 things that I have found in churches that are growing. Each nugget is exactly a 140-character tweet."
Solomon wisely said, "Do not say, 'Why were the former days better than these?' For you do not inquire wisely concerning this" (Eccl. 7:10). Yet that is exactly what many of our churches not only say, but how they function. They live as if it were their glory days and wonder why the house is nearly empty.
Here are 17 things that I have found functioning in churches that are growing. Each nugget is exactly a 140-character tweet. It's good to say what needs to be said in as few words as possible.
1. They know the times.
We're living in a Matthew 24 world, and much of the church is satisfied with feeding the fed and teaching the taught, while singing "Kumbaya."
2. They make reaching people a focus.
Soul winning can't be based on conversion to man's doctrine. In a godless society, it must be founded in an unadulterated faith in Christ.
3. They consider changing the mode of the message.
We should never change the message of the gospel of Jesus Christ, but we may have to change the language to reach this lost and dying world.
4. They promote the message.
Advertising is not marketing. Advertising tells, marketing communicates. Advertising promotes the seller, while marketing promotes the buyer.
5. They know the opposition.
The world is relentlessly and successfully evangelizing to the way of destruction. May the church raise the standard to the way of the Lord.
6. They equip the sheep.
Minister to the ministers, but make sure you are equipping the saints for the work of the ministry, doing the work of an evangelist.
7. They consider church planting.
What is church planting? Alex Mitala puts it like this: "Church planting is to do evangelism with the intention of forming a local assembly of converted sinners."
8. They make the decision rightly.
Decision-making is like writing: Proofread your text, think about it, let it rest, review it, do it again. Share your decision.
9. They lead rightly.
In leadership, would it not be best to clarify policies before they are made policy? It's best to be challenged before an action than after.
[This is the greatest measure of your church's health.]
10. They know how God moves.
When God is on the move, it is always in and through his body, the church. He is always willing and ready to move. The problem is we're not.
11. They have a God-sized vision.
If your vision is not bigger than your net, God is most likely not in your boat. For we can do all things through Christ who strengthens us.
12. They recruit when God is hiring.
Unless the Lord builds the house, they labor in vain who build it (Ps. 127:1). Therefore, pray the Lord to send out laborers (Matt. 9:38).
13. They know when to change gears.
If we keep doing what we're doing and getting what we're getting, then complaining about the results, surely this is the epitome of foolishness.
14. They avoid distraction.
All that is taking place in the world is nothing more than a distraction. It is distracting the church from fulfilling the Great Commission.
15. They ask the right questions.
When we've invested both time and resources into what we believe to be our best and it appears God chooses not to bless, should we persist?
16. They escape.
Lord, I pray we escape our small, self-centered worlds, that our borders be expanded to see what you see and do what you would have us to do.
17. They just do it.
The church is honestly praying for a movement of the Spirit in America. Good news: We are the temple of the Holy Spirit, so let's start moving.
Tony Foglio is a pastor, church planter, businessman and author of Discover the Bible: Journey Through the Bible As It Was Meant to Be Read (Thomas Nelson, 2004). For more information, go to DiscovertheBible.com.