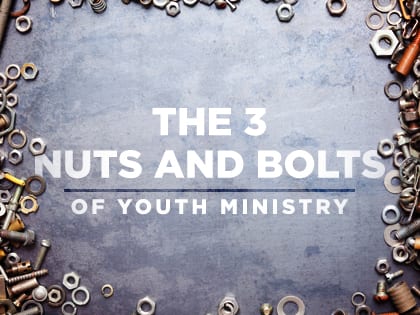 There are many kinds of youth ministry, but there are also some basic "nuts and bolts" that I believe must be present in every youth ministry. These may look different for each youth ministry, but they should always be practiced in some way, shape or form.
1. Clear Focus
Every youth ministry should have a mission or vision statement that explains why it exists. The ministry should have a drive to reinforce its purpose and its reason for being.
Through the years, I've seen many youth ministries that function more as teen babysitting services than as actual ministries because they don't have a clear focus.
2. Clear Faith
Each youth ministry should have a clear focus on its faith in Jesus Christ. While students need to have fun, their larger need is for a strong understanding and roadmap as to how they can develop their faith in Jesus Christ.
Your youth ministry should have opportunities for students to grow—whether it's small groups, Bible study or Sunday school. If you aren't pushing your students toward the Bible and spiritual growth, you're not doing ministry.
3. Clear Family
Every youth ministry should not only emphasize that students are part of the church family, but that the church must work in partnership with each student's family to maximize its impact. I borrowed a phrase from Mark DeVries to highlight this in our ministry: "Doing ministry WITH the parents and not FOR the parents."
You have to set up your youth ministry in such a way that it is clear that parents are a key piece to the puzzle of a student's growth and development.
What is the focus of your youth ministry? How is faith clearly seen in the life of your youth ministry? And how do you empower parents as you push to develop and grow you students?
Find more youth outreach ideas »
Russell St. Bernard (@PastorRuss09) is the youth minister at Reid Temple AME Church's north campus in Glenn Dale, Maryland, and the founder of After the Music Stops, a full-service youth ministry resource company dedicated to assisting leaders and parents as they serve their students.