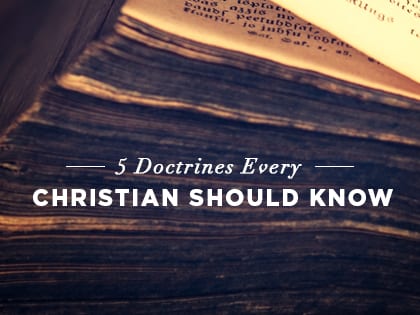 Ed Stetzer: Five essential Christian doctrines that all believers should be able to understand and articulate.
One of my greatest joys in my time at LifeWay was the creation of The Gospel Project. TGP (as it is known in-house) is a doctrinal-themed small-group study that approaches the Scripture from the metanarrative of God's redemptive work.
I'm glad LifeWay has asked me to continue as general editor of The Gospel Project. I think it's been a blessing to many, many people, growing to over 1 million weekly users in just three years.
We think that good small group materials should address doctrine. And the best plan is to have a way to cover major doctrines in a systematic way. In the case of TGP, you will touch on 99 major doctrines in a three-year cycle.
Today, I want to consider five of these essential doctrines.
1. Inspiration of Scripture
Most Christians realize that the inspiration of God's Word is an essential doctrine. J. Gresham Machen, pastor, professor and author of Christianity and Liberalism, expressed Scripture as a "'true account'" of divine revelation whose entire text is ensured by the Holy Spirit."
From the days of the Old Testament through today, the historic view of God's people is that "God has spoken." Not only has he spoken, but he has done so in a way that is without mistakes.
He did this through "inspiration," most clearly stated by Paul in 2 Timothy 3:16: "All Scripture is inspired by God and is profitable for teaching, for rebuking, for correcting, for training in righteousness."
The doctrine of inspiration is what gives us assurance that God has given us his Word, and that it is absolutely trustworthy for every aspect of our lives. Inspiration does not guarantee infallible interpretation, but that's a topic for another day.
2. God Is Holy
Scripture speaks of God's holiness many times. At its core, holiness means to be set apart for a special purpose. When speaking of God, holiness is an attribute. That is, holiness isn't something God does—it's part of his being. He hasn't been set apart; he sets apart. Without holiness he would cease to be the God revealed in Scripture.
From holy ground to holy days to holy people to holy places, to be in relationship with God is to be set apart for his glory: to be holy. God's holiness was reflected in the various things set apart for his use. His people were instructed to be holy for the very reason that God himself is holy.
As Peter reminds us, "But as the one who called you is holy, you also are to be holy in all your conduct; for it is written, 'Be holy, because I am holy'" (1 Peter 1:15-16).
God's holiness is not a product of his creation. Quite the contrary: God's holiness is the reason he can demand it from his creation.
3. Creation out of Nothing
Ex nihilo are meaningful words to Christians. They mean "out of nothing" and refer to God creating everything with nothing outside himself as the starting point. To put it another way, from the immaterial God spoke the material world into existence. He did not need to fashion the universe out of anything since everything emanated from him. Indeed, nothing physical could come into existence without God willing it into existence.
In our time, discussion about the big bang abounds. Supercolliders are used by scientists to recreate and research the first trillionths of a second after the universe came into existence. The pace of discovery is accelerating.
But, for the believer, the ultimate question is not the mere facts of the beginning, but who is on the other side of the big bang? If all mass, time, space and physical laws came into existence at the big bang, why should we think there was no force that caused it? The naturalist would say, "We don't know, but it wasn't God." The believer will say, "We don't know, but it makes sense that it could be God." Contemplating about the time before the beginning of the universe leads to a need for faith that someone was involved.
Creation out of nothing affirms the biblical truth that all things are "from him, through him, and to him" (Romans 11:36). God is the uncreated Creator, the unmoved Mover, the uncaused First Cause.
4. Sin's Effects in the World
Though evangelicals may disagree regarding what the fall's imposition of spiritual death on humans means, there are few who will argue that sin has had a devastating effect on the world. Broken people, broken systems, broken governments, broken, broken, broken. Sin, like battery acid, is corrosive and disfiguring.
To believe in the fall is to believe that at a point in history, sin entered into the world and death is caused by sin (Romans 5:12). Sin affects our flesh, our emotions, our psyche, our spiritual growth, and, if unrepented of, separates us from God forever.
We can look around our world and see the brutality of terrorist groups, the dishonesty of white-collar criminals, the failure of marriages, and, of course, we can look in the mirror. Nothing about God's creation remains unaffected by sin. The effects of sin have been so thorough and so tragic that it took the death of God's only begotten Son to destroy them at the root.
5. New Heaven and New Earth
One of the greatest promises of scripture is the coming new heaven and new earth. To be honest, I don't know what all that means. Will God wipe everything and start from a clean slate? Many believe that's the case. Or, will God totally and thoroughly renovate everything about his creation, restoring it to its original state? Others hold that position.
What I do know is this: The creation eagerly waits with anticipation for God's sons to be revealed. For the creation was subjected to futility—not willingly, but because of him who subjected it—in hope that the creation itself will also be set free from the bondage of corruption in to the glorious freedom of God's children. We know that the whole creation has been groaning together with labor pains until now. And not only that, but we ourselves who have the Spirit as the firstfruits—we also groan within ourselves, eagerly waiting for the adoption, the redemption of our bodies (Romans 8:19-23).
We recognize the depth of sin, but we also believe the God who redeems will ultimately restore. The God who created will recreate and, as the inspired Scripture tells us, in him we will be all in all (1 Corinthians 15:28).
Marty Duren contributed to this post.
Ed Stetzer holds the Billy Graham distinguished chair of church, mission and evangelism at Wheaton College and the Wheaton Grad School, where he also oversees the Billy Graham Center for Evangelism.