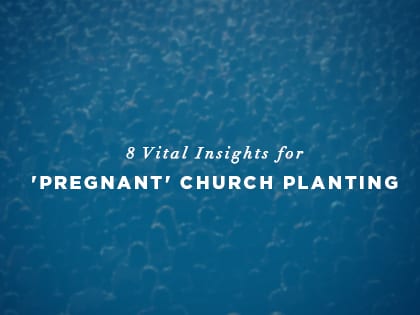 "God desires to see every person come to know him. He's waiting for a church planter to step out and start a movement."
When Revolution Church launched in Annapolis, Maryland, planting another church was already part of Lead Pastor Josh Burnett's plan. Scott and Amber Ancarrow would serve on Revolution's staff and be the new church's first church planters-in-residence. Two years after Revolution planted, Scott stepped off staff and, a year later, planted The Foundry in Baltimore. Now, The Foundry is preparing to send out its first church planter-in-residence, Josh Drew. When Drew plants in September, Revolution will birth "grandchildren" in just seven years. Below, Burnett shares some of what he has learned as he pushed toward planting "pregnant."
1. It's never too early to start praying.
You won't hear me say, "Just go do this." Ask God for his guidance and wisdom, for his direction and discernment. When it comes to church planting, prayer trumps everything else!
The scary prospect of planting pregnant drove us to a new level of dependency on God. I started praying about planting a church-planting church when I was 17 years old. We're on pace to plant two churches in five years, and I attribute that to those early prayers.
2. Choose an impossible vision.
One of the hardest things about planting a church is raising the funds necessary to launch a church well. It takes an amazing amount of trust in God to overcome your fear of finances and step out in faith.
I remember when we first stepped off staff at our home church to plant Revolution. I was terrified of not being able to raise the funds we would need to launch, not to mention raising the funds we would need to hire a church planter-in-residence. We invested in the future before we had any clue what our future would look like. I had to fight the temptation to say, "Let's wait until we're more stable, and then we'll bring on a planter."
Related: Special report—the state of church planting today »
It's easy to allow finances to drive your vision, but the often-repeated phrase is true: People give to a compelling vision. We were able to raise funds because we had a vision that everyone (including us) knew we couldn't accomplish without God. In fact, not too long ago two of our best leaders and strong financial partners at Revolution told me that our vision to plant more churches beyond Revolution drew them to the church.
3. Remember that God is the ultimate resource provider.
I get it. You're worried about the resources needed to plant and plant pregnant. I may be stating the obvious, but sometimes we just need to be reminded that God created the universe. If we simply go to him and ask him to provide what we need (not want), he has promised us he will lead us to the necessary resources.
Right now, three different churches are funding our current church planter-in-residence. We prayed and then pitched an idea to collectively fund a resident so that we could continue to plant more churches. And two other churches jumped in with us!
If you're worried about finding the right person to be your church planter-in-residence, remember that God is familiar with every hair on the heads of some 7 billion-plus people. He can and will bring you the right person. If you're worried about launching the plant that God has called you to, who could be a better partner in that venture than a future church planter?
Revolution is not a megachurch. We average a little more than 350 regular attendees. Before we planted almost seven years ago, we had no planting expertise. I didn't know what I didn't know. What I did know was that God wanted to reach people. So we moved forward with that in mind.
4. Take the time to hire the right planter.
The tensions you'll experience with your planter-in-residence are real. Make sure you hire the right person. So many times, Scott could've focused on his plant rather than Revolution, but he was faithful to the task of helping get Revolution off the ground. I'm convinced that's one reason why we had such a strong start as a church.
I randomly met Scott and his wife, Amber, at the Church Planter Assessment Center, which gave us the confidence that we were hiring a true, fully assessed church planter. Also, if you hire the right potential planter, that person has the ability to raise a large chunk of their salary. And by hiring a stellar church planter-in-residence, you make your team better. Think about it. You're basically hiring someone you believe could do what you're doing. Not only is it the right idea if we truly want to start a movement, but it also is an amazing staffing plan.